Study Aids:
Click the Study Aids tab at the bottom of the book to access your Study Aids (usually practice quizzes and flash cards).
Study Pass:
Study Pass is our latest digital product that lets you take notes, highlight important sections of the text using different colors, create "tags" or labels to filter your notes and highlights, and print so you can study offline. Study Pass also includes interactive study aids, such as flash cards and quizzes.
Highlighting and Taking Notes:
If you've purchased the All Access Pass or Study Pass, in the online reader, click and drag your mouse to highlight text. When you do a small button appears – simply click on it! From there, you can select a highlight color, add notes, add tags, or any combination.
Printing:
If you've purchased the All Access Pass, you can print each chapter by clicking on the Downloads tab. If you have Study Pass, click on the print icon within Study View to print out your notes and highlighted sections.
Search:
To search, use the text box at the bottom of the book. Click a search result to be taken to that chapter or section of the book (note you may need to scroll down to get to the result).
---
View Full Student FAQs
21.19

Not and Other Negative Words

Figure 21.4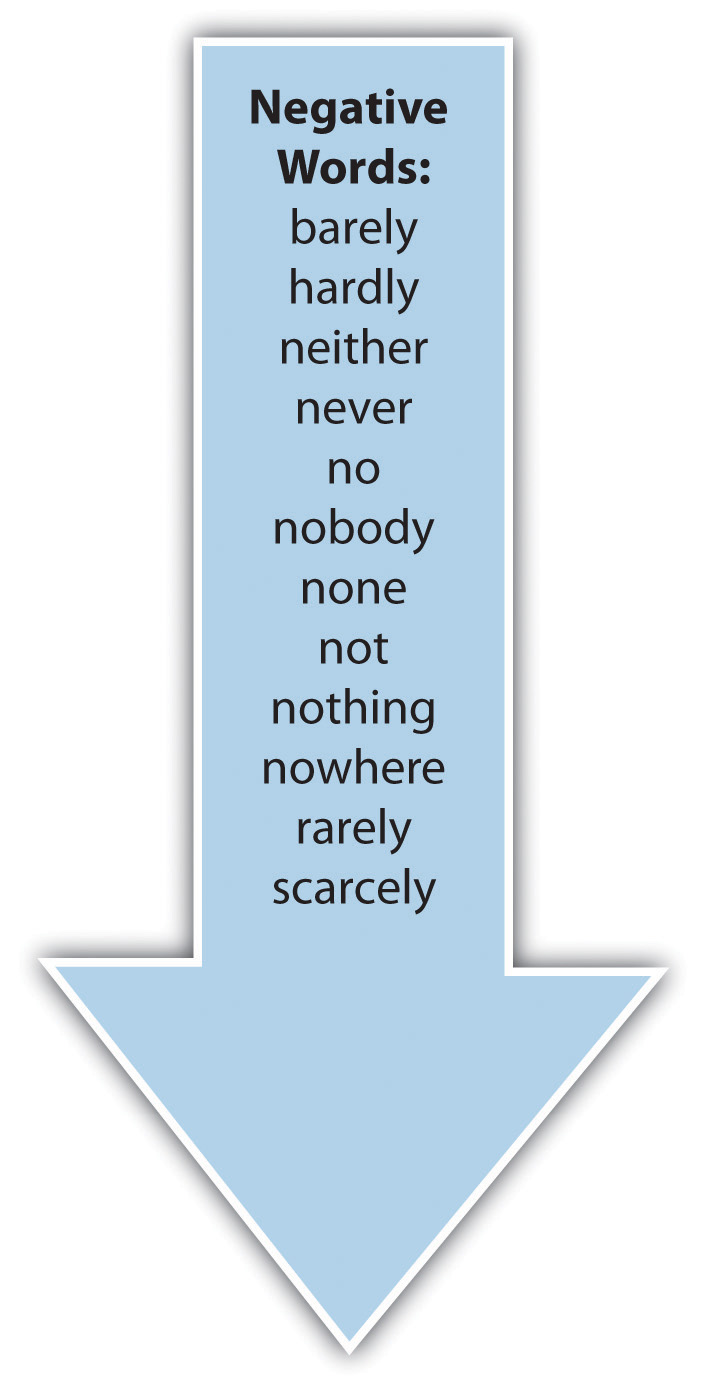 To form a negative in English, you have to add a negative word to the sentence. Some of the negative words in English are shown in the blue arrow. Typically, you should place the negative word before the main verb.
I was barely awake when I heard you come home.
Kurt is not going with us.
In casual English, it is common to form contractions, or shortened combined words, with the auxiliary or linking verb and the word not. Contractions are typically not acceptable in very formal writing but are becoming more and more common in certain academic and public contexts.
I haven't heard that before.
Jill isn't my cousin.
Using two negative words in the same sentence changes the meaning of the negative words to positive, thus supporting the common saying "Two negatives make a positive." Think of it as being similar to multiplying two negative numbers and getting a positive number. Double negatives are often used in extremely casual talk but never in professional or academic settings.
Example
Correct: I didn't hear anything.
Incorrect: I didn't hear nothing. (The two negatives change to a positive, so the sentence technically means "I heard something.")