Study Aids:
Click the Study Aids tab at the bottom of the book to access your Study Aids (usually practice quizzes and flash cards).
Study Pass:
Study Pass is our latest digital product that lets you take notes, highlight important sections of the text using different colors, create "tags" or labels to filter your notes and highlights, and print so you can study offline. Study Pass also includes interactive study aids, such as flash cards and quizzes.
Highlighting and Taking Notes:
If you've purchased the All Access Pass or Study Pass, in the online reader, click and drag your mouse to highlight text. When you do a small button appears – simply click on it! From there, you can select a highlight color, add notes, add tags, or any combination.
Printing:
If you've purchased the All Access Pass, you can print each chapter by clicking on the Downloads tab. If you have Study Pass, click on the print icon within Study View to print out your notes and highlighted sections.
Search:
To search, use the text box at the bottom of the book. Click a search result to be taken to that chapter or section of the book (note you may need to scroll down to get to the result).
---
View Full Student FAQs
Chapter 2

Getting Started in Research

Here is the first paragraph of a 2009 article in the Journal of Experimental Psychology: Applied.

Human figure drawings (HFDs) are commonly used by professionals who interview children about suspected sexual abuse. It is assumed that these drawings will decrease children's linguistic and emotional or motivational limitations, as well as memory problems, and thus will result in the elicitation of more complete and accurate details of abuse. There is, however, little scientific information to support claims of their benefits. This article presents the results of two studies that examined young children's ability to use HFDs to report body touches. (Bruck, 2009, p. 361)Bruck, M. (2009). Human figure drawings and children's recall of touching. Journal of Experimental Psychology: Applied, 15, 361–374.

Figure 2.1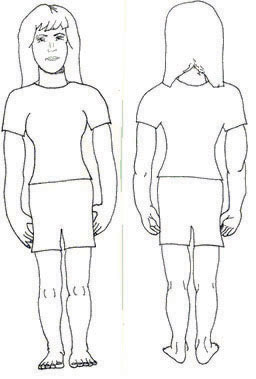 Do human figure drawings like this one help children recall information about being touched—for example, in sexual abuse cases? Unfortunately, initial research suggests that they do not.
In this paragraph, the researcher has identified a research question—about the effect of using human figure drawings on the accuracy of children's memories of being touched—and begun to make an argument for why it is interesting. In terms of the general model of scientific research in psychology presented in Figure 1.2 "A Simple Model of Scientific Research in Psychology", these are activities at the "top" of the cycle. In this chapter, we focus on these activities—finding research ideas, turning them into interesting empirical research questions, and reviewing the research literature. We begin, however, with some more basic concepts that are necessary to understand how research questions in psychology are conceptualized.