Study Aids:
Click the Study Aids tab at the bottom of the book to access your Study Aids (usually practice quizzes and flash cards).
Study Pass:
Study Pass is our latest digital product that lets you take notes, highlight important sections of the text using different colors, create "tags" or labels to filter your notes and highlights, and print so you can study offline. Study Pass also includes interactive study aids, such as flash cards and quizzes.
Highlighting and Taking Notes:
If you've purchased the All Access Pass or Study Pass, in the online reader, click and drag your mouse to highlight text. When you do a small button appears – simply click on it! From there, you can select a highlight color, add notes, add tags, or any combination.
Printing:
If you've purchased the All Access Pass, you can print each chapter by clicking on the Downloads tab. If you have Study Pass, click on the print icon within Study View to print out your notes and highlighted sections.
Search:
To search, use the text box at the bottom of the book. Click a search result to be taken to that chapter or section of the book (note you may need to scroll down to get to the result).
---
View Full Student FAQs
10.5

Case Study: Firebox.com and Speedy Santa

Firebox.com, a leading UK gifts and gadgets e-tailer, hired agency Inbox.co.uk to create the most popular Christmas viral of December 2004. The viral concept also needed to drive traffic to the Firebox.com site to boost sales of toys and gadgets. Inbox.co.uk created an addictive game based on a simple idea: drag Santa around his Lapland track in the quickest time.

Figure 10.3 The Speedy Santa Game on Firebox.com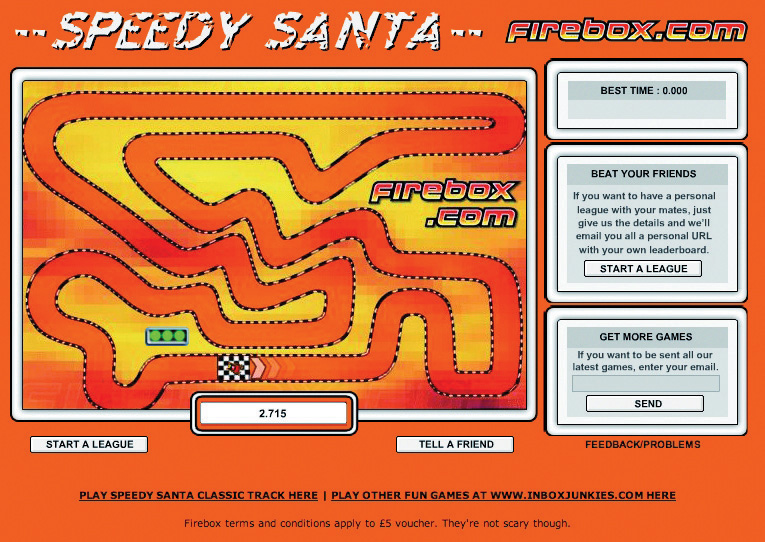 Players were given a global position at the end of each lap, and every player who completed a lap of the Firebox track won a £5 Firebox voucher.
The hook: A system of private leagues was devised where players could invite four friends or colleagues to join a leader board. Everyone in that league was e-mailed a personal Web site link and scores were updated in real time.
These leagues proved to be a big hit and created a lot of office buzz. Within four days, the game was number one in the FHM Top 100 games. The Speedy Santa game was played over twenty-two million times in the run-up to Christmas. On average, people played the game over sixty times each. Of people who played the Firebox Speedy Santa game, 87 percent clicked through to the Firebox.com site, at a cost to Firebox of under $0.02 per click-through. And they each had a Firebox voucher to spend right before Christmas.
Christian Robinson, marketing director of Firebox.com, said, "It has definitely been one of the most successful promotions we have ever run, generated hundreds of thousands of pounds in revenue and bringing the Firebox brand to tens of thousands of new customers."Christian Robinson, personal communication with Sarah Blake.
Case Study Questions
Why do you think leader boards were an important contributing factor to the success of this campaign?
How did Firebox.com capitalize on the success of the game?
How was the game suited to its target audience and time of year?