Study Aids:
Click the Study Aids tab at the bottom of the book to access your Study Aids (usually practice quizzes and flash cards).
Study Pass:
Study Pass is our latest digital product that lets you take notes, highlight important sections of the text using different colors, create "tags" or labels to filter your notes and highlights, and print so you can study offline. Study Pass also includes interactive study aids, such as flash cards and quizzes.
Highlighting and Taking Notes:
If you've purchased the All Access Pass or Study Pass, in the online reader, click and drag your mouse to highlight text. When you do a small button appears – simply click on it! From there, you can select a highlight color, add notes, add tags, or any combination.
Printing:
If you've purchased the All Access Pass, you can print each chapter by clicking on the Downloads tab. If you have Study Pass, click on the print icon within Study View to print out your notes and highlighted sections.
Search:
To search, use the text box at the bottom of the book. Click a search result to be taken to that chapter or section of the book (note you may need to scroll down to get to the result).
---
View Full Student FAQs
Chapter 8

Electronic Structure
Opening Essay
Normal light microscopes can magnify objects up to about 1,500 times. Electron microscopes can magnify objects up to 1,000,000 times. Why can electron microscopes magnify images so much?
A microscope's resolution depends on the wavelength of light used. The smaller the wavelength, the more a microscope can magnify. Light is a wave, and, as such, it has a wavelength associated with it. The wavelength of visible light, which is detected by the eyes, varies from about 700 nm to about 400 nm.
One of the startling conclusions about modern science is that electrons also act as waves. However, the wavelength of electrons is much, much shorter—about 0.5 to 1 nm. This allows electron microscopes to magnify 600–700 times more than light microscopes. This allows us to see even smaller features in a world that is invisible to the naked eye.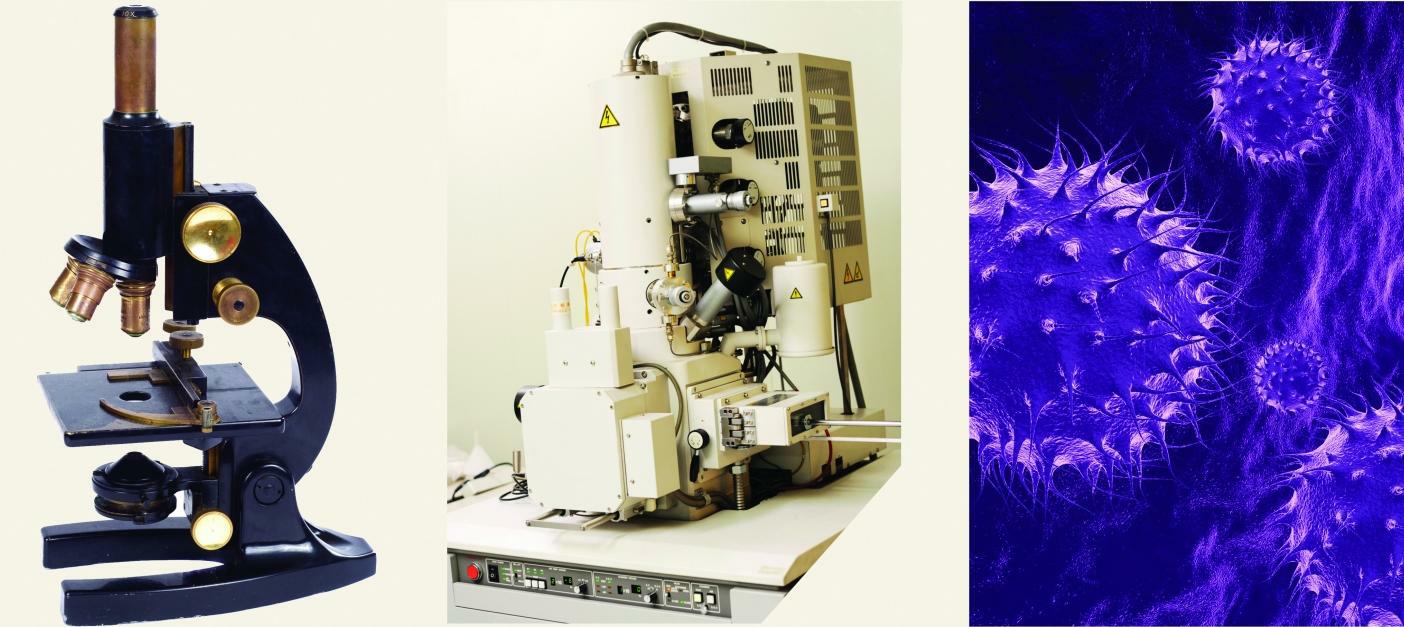 (a) A simple light microscope can magnify up to 1,500 times. (b) An electron microscope can magnify up to 1,000,000 times. (c) Flu viruses imaged by an electron microscope. The virus is about 100 nm in diameter.
Atoms act the way they do because of their structure. We already know that atoms are composed of protons, neutrons, and electrons. Protons and neutrons are located in the nucleus, and electrons orbit around the nucleus. But we need to know the structural details to understand why atoms react the way they do.
Virtually everything we know about atoms ultimately comes from light. Before we can understand the composition of atoms (especially electrons), we need to understand the properties of light.