Study Aids:
Click the Study Aids tab at the bottom of the book to access your Study Aids (usually practice quizzes and flash cards).
Study Pass:
Study Pass is our latest digital product that lets you take notes, highlight important sections of the text using different colors, create "tags" or labels to filter your notes and highlights, and print so you can study offline. Study Pass also includes interactive study aids, such as flash cards and quizzes.
Highlighting and Taking Notes:
If you've purchased the All Access Pass or Study Pass, in the online reader, click and drag your mouse to highlight text. When you do a small button appears – simply click on it! From there, you can select a highlight color, add notes, add tags, or any combination.
Printing:
If you've purchased the All Access Pass, you can print each chapter by clicking on the Downloads tab. If you have Study Pass, click on the print icon within Study View to print out your notes and highlighted sections.
Search:
To search, use the text box at the bottom of the book. Click a search result to be taken to that chapter or section of the book (note you may need to scroll down to get to the result).
---
View Full Student FAQs
4.4

Linkages across Markets
Learning Objectives
After you have read this section, you should be able to answer the following questions:
How are the markets for goods, labor, credit, and foreign currency linked?
How do we use those links to understand the crisis that began in 2008?
In Section 4.3 "Three Important Markets", we talked about the markets for credit, labor, and foreign exchange. We explained that we sometimes look at individual examples of these markets and sometimes at versions of these markets that apply to the economy as a whole.
But the story of the economic crisis in 2008 was not about a single market. Instead, what started as a problem in the US mortgage market was felt in the housing market in England, the labor market in China, the foreign exchange market in Europe, and many other markets. These different markets are connected; in this section, we explore these linkages. We do so through the circular flow of income, shown in Figure 4.16 "The Circular Flow of Income". That model of the economy reveals the linkages across markets that the global financial crisis made so evident.
Figure 4.16 The Circular Flow of Income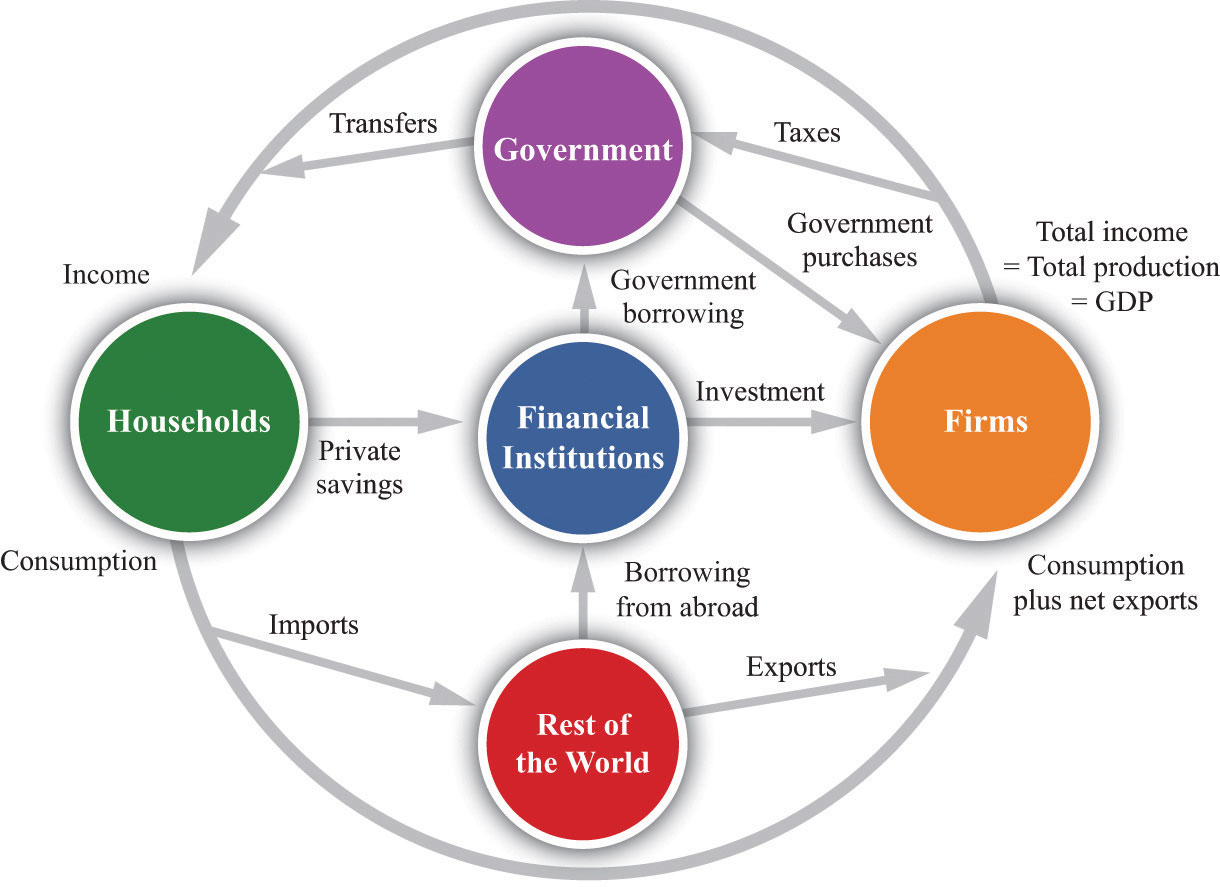 We know from the circular flow that the production of goods and services generates income in an economy. Some of that income is paid to the government in the form of taxes, but the rest finds its way to households. Much of the flow of dollars from firms to households takes place through the labor market because firms demand labor to produce goods. If firms are producing large quantities of goods and services, then they demand lots of labor, and income from the sale of labor services in the economy is high.
Some of the income that households earn from selling labor services is saved. There is therefore a link, through the household sector, between the labor market and the credit market. So we can follow a connection from the production of goods and services to the supply of credit: if firms produce more, they generate more labor income, so there is more saving supplied by households to the credit market. There is also a link from the markets for goods and services to the demand for credit: firms borrow to purchase investment goods.
These markets are also linked—directly or indirectly—to foreign exchange markets. Whenever firms purchase imported goods, such as oil, this generates a demand for foreign exchange. When firms expand output, demand more labor, and so generate additional household income, households spend some of this income on imports, again generating a demand for foreign exchange. When households and firms in other countries want to buy our goods and services, that generates a supply of foreign exchange. And many transactions in credit markets also generate a demand for or supply of foreign exchange.
Comparative Statics in an Interconnected World
We could go on, but the point should be clear: the markets in every economy are intimately interconnected. This has a critical implication for our study of macroeconomics, which is that it both complicates and enriches our comparative static analyses. When a shift in supply or demand in one market affects the equilibrium price and quantity in that market, there are changes in other markets as well.There is a second, more abstract implication: we have to worry about whether all the markets in the economy are in equilibrium at the same time. In our analyses, we have looked at only one market at a time. But we now know that the outcome in one market (for example, the real wage) can affect supply and demand in other markets (for example, the supply of credit). In advanced studies in economics, we use complicated mathematics to see if there are prices that are consistent with all the markets being in equilibrium at once. The bottom line is good news: we can usually be confident that there is an equilibrium for all markets. But because this is such an advanced area of economics, we do not worry about it further in this book. In this section, we show how these interactions across markets help us understand the propagation of the 2008 crisis from the US housing market to the economies of the world. We have already hinted at some of these linkages, but now we make them more explicit.
The Crisis of 2008: A Brief Summary
The crisis began with a reduction in the demand for houses and a consequent decrease in the value of houses. This reduced the value of assets, particularly mortgage-backed securities, and meant that the supply of credit in the economy shifted inward. The consequence was higher interest rates and reduced credit. Since many firms in the economy borrow to finance production, the increased interest rates increased their marginal costs of production. Supply curves throughout the economy shifted inward, leading to lower output. Firms needed fewer workers, so there was a reduction in employment.
The spread to other countries came through a couple of avenues. First, households and firms in other countries were one source of credit to the US economy. When asset prices decreased, the portfolios of foreign banks were also adversely affected. This led to higher interest rates and lower output in those countries. In addition, as the US economy went into recession, it purchased fewer imports from other countries. This led to lower production in those countries.
Our description of the crisis is of necessity a simple one. We have neglected many details, and we have not discussed how government policies also affected interest rates and the demand for goods and services. Later chapters in the book provide more tools for understanding these aspects of the crisis, so when we return to the topic in Chapter 15 "The Global Financial Crisis", we can provide a more complete analysis of the crisis.
Key Takeaways
Markets are linked because supply and demand in one market generally depend on the outcomes in other markets. The circular flow of income illustrates some of these connections across markets.
Although the crisis in 2008 may have started in the housing market, it did not end there. Instead, the crisis impacted markets for labor, credit, and foreign exchange.
Checking Your Understanding
We have explained that increases in interest rates shift the supply of goods leftward, and decreases in incomes shift the demand for goods leftward. Draw diagrams with both shifts at once and show that the quantity definitely decreases, but the price may increase or decrease.
Can you think of a good for which the demand curve might shift rightward when incomes decrease?