Study Aids:
Click the Study Aids tab at the bottom of the book to access your Study Aids (usually practice quizzes and flash cards).
Study Pass:
Study Pass is our latest digital product that lets you take notes, highlight important sections of the text using different colors, create "tags" or labels to filter your notes and highlights, and print so you can study offline. Study Pass also includes interactive study aids, such as flash cards and quizzes.
Highlighting and Taking Notes:
If you've purchased the All Access Pass or Study Pass, in the online reader, click and drag your mouse to highlight text. When you do a small button appears – simply click on it! From there, you can select a highlight color, add notes, add tags, or any combination.
Printing:
If you've purchased the All Access Pass, you can print each chapter by clicking on the Downloads tab. If you have Study Pass, click on the print icon within Study View to print out your notes and highlighted sections.
Search:
To search, use the text box at the bottom of the book. Click a search result to be taken to that chapter or section of the book (note you may need to scroll down to get to the result).
---
View Full Student FAQs
Chapter 16

Carbohydrates
Opening Essay
In the United States, 17.9 million people have been diagnosed with diabetes, and experts estimate that at least another 5.7 million people have the disease but have not been diagnosed. In 2006, diabetes was the seventh leading cause of death, listed on 72,507 death certificates. Moreover, it was a contributing factor in over 200,000 deaths in which the cause was listed as something else, such as heart or kidney disease.
People with diabetes are impaired in their ability to metabolize glucose, a sugar needed by the body for energy; as a result, excessive quantities of glucose accumulate in the blood and the urine. The characteristic symptoms of diabetes are weight loss, constant hunger, extreme thirst, and frequent urination (the kidneys excrete large amounts of water in an attempt to remove the excess sugar from the blood).
An important diagnostic test for diabetes is the oral glucose tolerance test, which measures the level of glucose in blood plasma. A first measurement is made after a fast of at least 8 h, followed by another measurement 2 h after the person drinks a flavored solution of 75 g of glucose dissolved in water. At the second measurement, the glucose plasma level should be no higher than 139 mg/dL. Individuals with a value between 140 and 199 mg/dL are diagnosed with prediabetes, while those with a value of 200 mg/dL or above are diagnosed with diabetes. Following a diagnosis of diabetes a person will need to monitor his or her blood glucose levels daily (or more often) using a glucose meter.
Figure 16.1 Using a Glucose Meter to Test Blood Glucose Level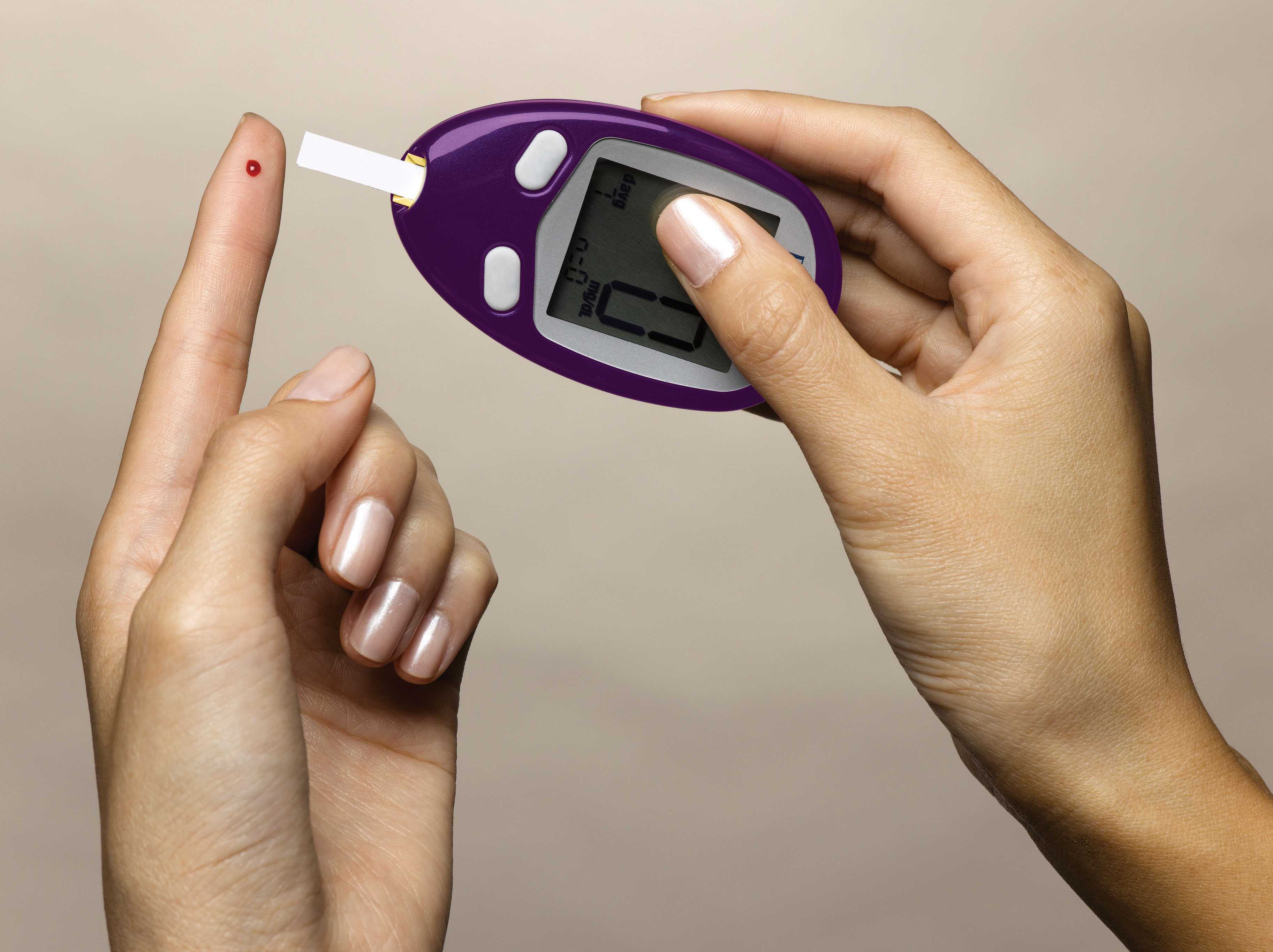 Glucose is one of the carbohydrates you will learn about in this chapter as we begin the study of biochemistryThe chemistry of molecules found in living organisms.—the chemistry of molecules found in living organisms. Later we will study the other three major types of macromolecules found in living organisms: lipids, proteins, and nucleic acids.