Study Aids:
Click the Study Aids tab at the bottom of the book to access your Study Aids (usually practice quizzes and flash cards).
Study Pass:
Study Pass is our latest digital product that lets you take notes, highlight important sections of the text using different colors, create "tags" or labels to filter your notes and highlights, and print so you can study offline. Study Pass also includes interactive study aids, such as flash cards and quizzes.
Highlighting and Taking Notes:
If you've purchased the All Access Pass or Study Pass, in the online reader, click and drag your mouse to highlight text. When you do a small button appears – simply click on it! From there, you can select a highlight color, add notes, add tags, or any combination.
Printing:
If you've purchased the All Access Pass, you can print each chapter by clicking on the Downloads tab. If you have Study Pass, click on the print icon within Study View to print out your notes and highlighted sections.
Search:
To search, use the text box at the bottom of the book. Click a search result to be taken to that chapter or section of the book (note you may need to scroll down to get to the result).
---
View Full Student FAQs
13.1

msnbc.com: A Campaign Portfolio

The campaign consisted of many interrelated pieces. All of them tied back to the major campaign objective of building a solid and positive brand image for msnbc.com. SS+K and its partners accomplished this by designing multiple executions using multiple platforms, from conventional print to innovations including the first-ever in-cinema game that allowed the audience to participate in the execution.

In order to keep track of all these elements, SS+K referred to a status chart, a tool many agencies use to keep track of the progress of the many moving parts involved in a campaign. Status charts are tailored to specific account or campaign needs and are managed by the account management and project management teams.

Figure 13.2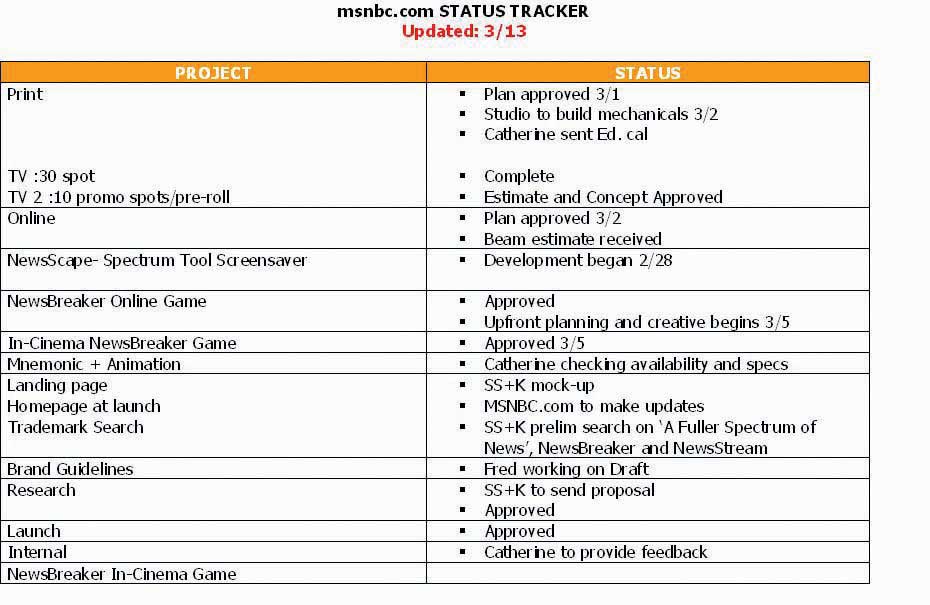 The status chart for the week of March 13, 2007. This summarized multiple elements, the current status, and what needed to happen next in order to keep the project moving toward completion.
Here's what all the pieces of the campaign looked like at launch.
The first part of the work centered on the logo.