Study Aids:
Click the Study Aids tab at the bottom of the book to access your Study Aids (usually practice quizzes and flash cards).
Study Pass:
Study Pass is our latest digital product that lets you take notes, highlight important sections of the text using different colors, create "tags" or labels to filter your notes and highlights, and print so you can study offline. Study Pass also includes interactive study aids, such as flash cards and quizzes.
Highlighting and Taking Notes:
If you've purchased the All Access Pass or Study Pass, in the online reader, click and drag your mouse to highlight text. When you do a small button appears – simply click on it! From there, you can select a highlight color, add notes, add tags, or any combination.
Printing:
If you've purchased the All Access Pass, you can print each chapter by clicking on the Downloads tab. If you have Study Pass, click on the print icon within Study View to print out your notes and highlighted sections.
Search:
To search, use the text box at the bottom of the book. Click a search result to be taken to that chapter or section of the book (note you may need to scroll down to get to the result).
---
View Full Student FAQs
Chapter 4

Reactions in Aqueous Solution

In Chapter 3 "Chemical Reactions", we described chemical reactions in general and introduced some techniques that are used to characterize them quantitatively. For the sake of simplicity, we discussed situations in which the reactants and the products of a given reaction were the only chemical species present. In reality, however, virtually every chemical reaction that takes place within and around us, such as the oxidation of foods to generate energy or the treatment of an upset stomach with an antacid tablet, occur in solution. In fact, many reactions must be carried out in solution and do not take place at all if the solid reactants are simply mixed.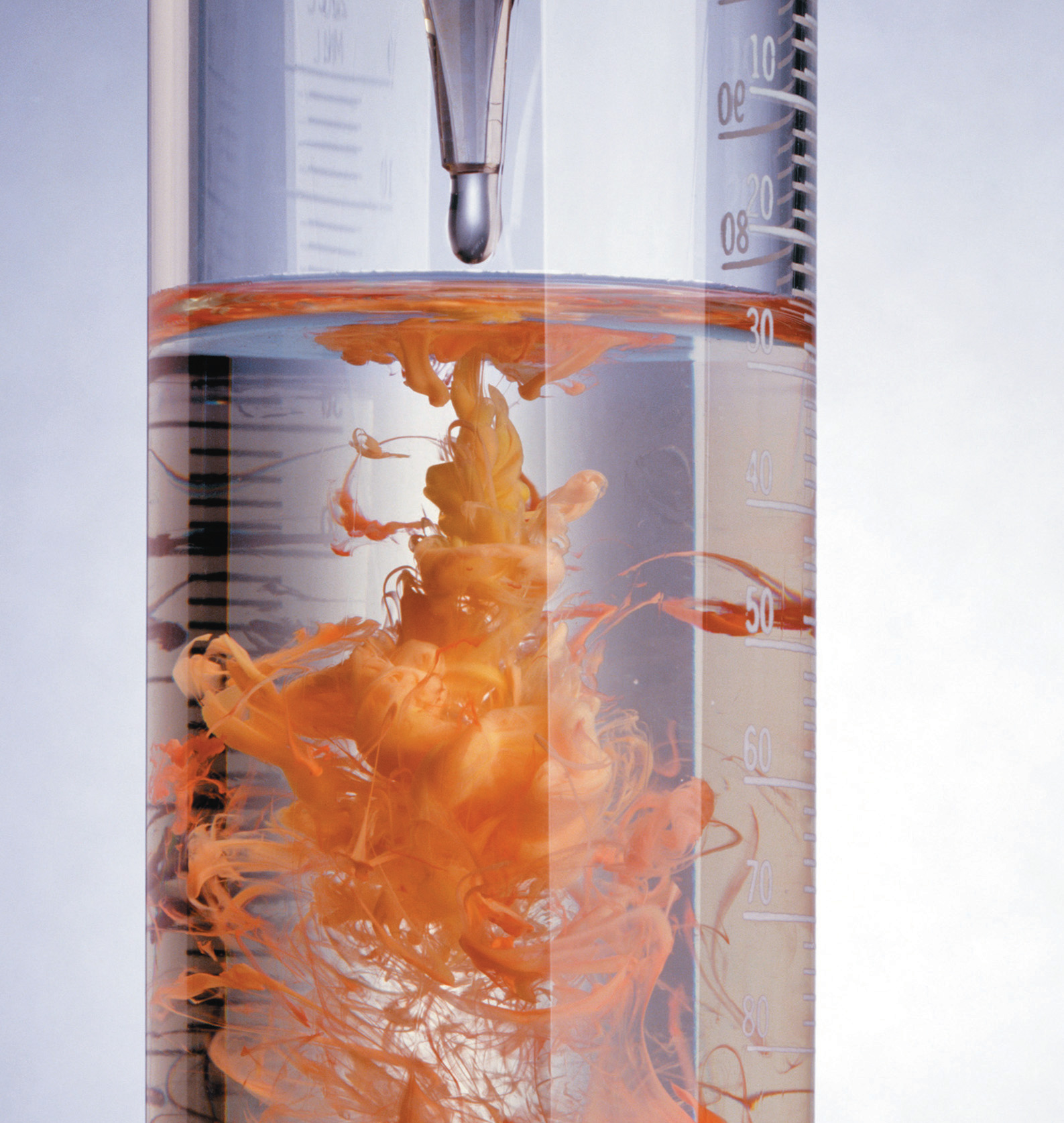 The reaction of mercury(II) acetate with sodium iodide. When colorless aqueous solutions of each reactant are mixed, they produce a red precipitate, mercury(II) iodide, which is the result of an exchange reaction.
As you learned in Chapter 1 "Introduction to Chemistry", a solutionA homogeneous mixture of two or more substances in which solutes are dispersed uniformly throughout the solvent. is a homogeneous mixture in which substances present in lesser amounts, called solutesThe substance or substances present in lesser amounts in a solution., are dispersed uniformly throughout the substance in the greater amount, the solventThe substance present in the greater amount in a solution.. An aqueous solutionA solution in which water is the solvent. is a solution in which the solvent is water, whereas in a nonaqueous solution, the solvent is a substance other than water. Familiar examples of nonaqueous solvents are ethyl acetate, used in nail polish removers, and turpentine, used to clean paint brushes. In this chapter, we focus on reactions that occur in aqueous solution.
There are many reasons for carrying out reactions in solution. For a chemical reaction to occur, individual atoms, molecules, or ions must collide, and collisions between two solids, which are not dispersed at the atomic, molecular, or ionic level, do not occur at a significant rate. In addition, when the amount of a substance required for a reaction is so small that it cannot be weighed accurately, using a solution of that substance, in which the solute is dispersed in a much larger mass of solvent, enables chemists to measure its quantity with great precision. Chemists can also more effectively control the amount of heat consumed or produced in a reaction when the reaction occurs in solution, and sometimes the nature of the reaction itself can be controlled by the choice of solvent.
This chapter introduces techniques for preparing and analyzing aqueous solutions, for balancing equations that describe reactions in solution, and for solving problems using solution stoichiometry. By the time you complete this chapter, you will know enough about aqueous solutions to explain what causes acid rain, why acid rain is harmful, and how a Breathalyzer measures alcohol levels. You will also understand the chemistry of photographic development, be able to explain why rhubarb leaves are toxic, and learn about a possible chemical reason for the decline and fall of the Roman Empire.