Study Aids:
Click the Study Aids tab at the bottom of the book to access your Study Aids (usually practice quizzes and flash cards).
Study Pass:
Study Pass is our latest digital product that lets you take notes, highlight important sections of the text using different colors, create "tags" or labels to filter your notes and highlights, and print so you can study offline. Study Pass also includes interactive study aids, such as flash cards and quizzes.
Highlighting and Taking Notes:
If you've purchased the All Access Pass or Study Pass, in the online reader, click and drag your mouse to highlight text. When you do a small button appears – simply click on it! From there, you can select a highlight color, add notes, add tags, or any combination.
Printing:
If you've purchased the All Access Pass, you can print each chapter by clicking on the Downloads tab. If you have Study Pass, click on the print icon within Study View to print out your notes and highlighted sections.
Search:
To search, use the text box at the bottom of the book. Click a search result to be taken to that chapter or section of the book (note you may need to scroll down to get to the result).
---
View Full Student FAQs
Chapter 3

Chemical Reactions

Chapter 2 "Molecules, Ions, and Chemical Formulas" introduced you to a wide variety of chemical compounds, many of which have interesting applications. For example, nitrous oxide, a mild anesthetic, is also used as the propellant in cans of whipped cream, while copper(I) oxide is used as both a red glaze for ceramics and in antifouling bottom paints for boats. In addition to the physical properties of substances, chemists are also interested in their chemical reactionsA process in which a substance is converted to one or more other substances with different compositions and properties., processes in which a substance is converted to one or more other substances with different compositions and properties. Our very existence depends on chemical reactions, such as those between oxygen in the air we breathe and nutrient molecules in the foods we eat. Other reactions cook those foods, heat our homes, and provide the energy to run our cars. Many of the materials and pharmaceuticals that we take for granted today, such as silicon nitride for the sharp edge of cutting tools and antibiotics such as amoxicillin, were unknown only a few years ago. Their development required that chemists understand how substances combine in certain ratios and under specific conditions to produce a new substance with particular properties.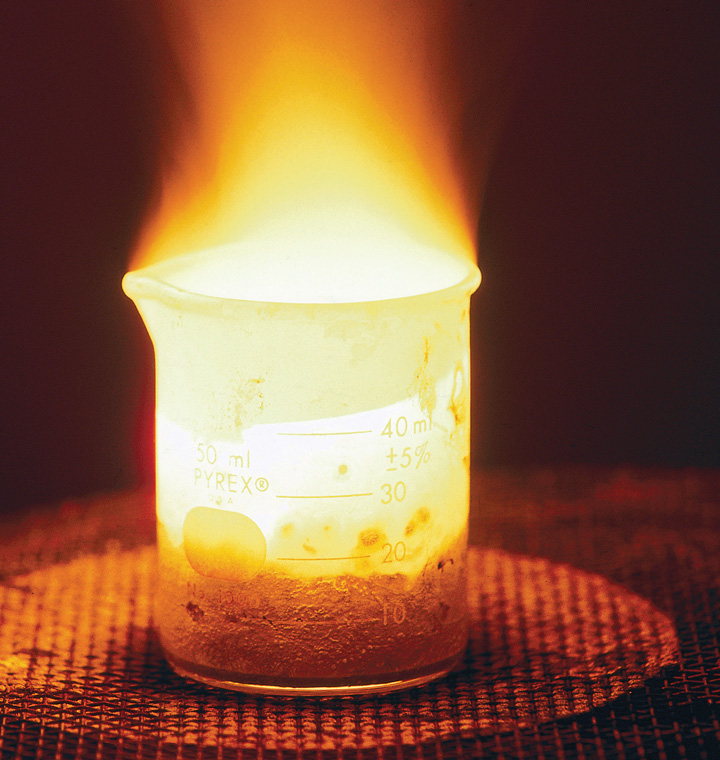 Sodium. The fourth most abundant alkali metal on Earth, sodium is a highly reactive element that is never found free in nature. When heated to 250°C, it bursts into flames if exposed to air.
We begin this chapter by describing the relationship between the mass of a sample of a substance and its composition. We then develop methods for determining the quantities of compounds produced or consumed in chemical reactions, and we describe some fundamental types of chemical reactions. By applying the concepts and skills introduced in this chapter, you will be able to explain what happens to the sugar in a candy bar you eat, what reaction occurs in a battery when you start your car, what may be causing the "ozone hole" over Antarctica, and how we might prevent the hole's growth.