Study Aids:
Click the Study Aids tab at the bottom of the book to access your Study Aids (usually practice quizzes and flash cards).
Study Pass:
Study Pass is our latest digital product that lets you take notes, highlight important sections of the text using different colors, create "tags" or labels to filter your notes and highlights, and print so you can study offline. Study Pass also includes interactive study aids, such as flash cards and quizzes.
Highlighting and Taking Notes:
If you've purchased the All Access Pass or Study Pass, in the online reader, click and drag your mouse to highlight text. When you do a small button appears – simply click on it! From there, you can select a highlight color, add notes, add tags, or any combination.
Printing:
If you've purchased the All Access Pass, you can print each chapter by clicking on the Downloads tab. If you have Study Pass, click on the print icon within Study View to print out your notes and highlighted sections.
Search:
To search, use the text box at the bottom of the book. Click a search result to be taken to that chapter or section of the book (note you may need to scroll down to get to the result).
---
View Full Student FAQs
Chapter 6

The Structure of Atoms

Chapter 1 "Introduction to Chemistry" through Chapter 5 "Energy Changes in Chemical Reactions" introduced you to a wide variety of chemical substances and some of the most fundamental concepts in chemistry, including general descriptions of chemical bonding, mass relationships in chemical equations, and the energy changes associated with chemical reactions. You learned that the atoms of each element contain a unique number of positively charged protons in the nucleus and that a neutral atom has the same number of electrons as protons. You also learned that protons and neutrons constitute most of the mass of the atom and that electrons occupy most of the volume of an atom. These facts do not, however, explain the stoichiometries and the structures of chemical compounds; a deeper understanding of the electronic structure of atoms is required.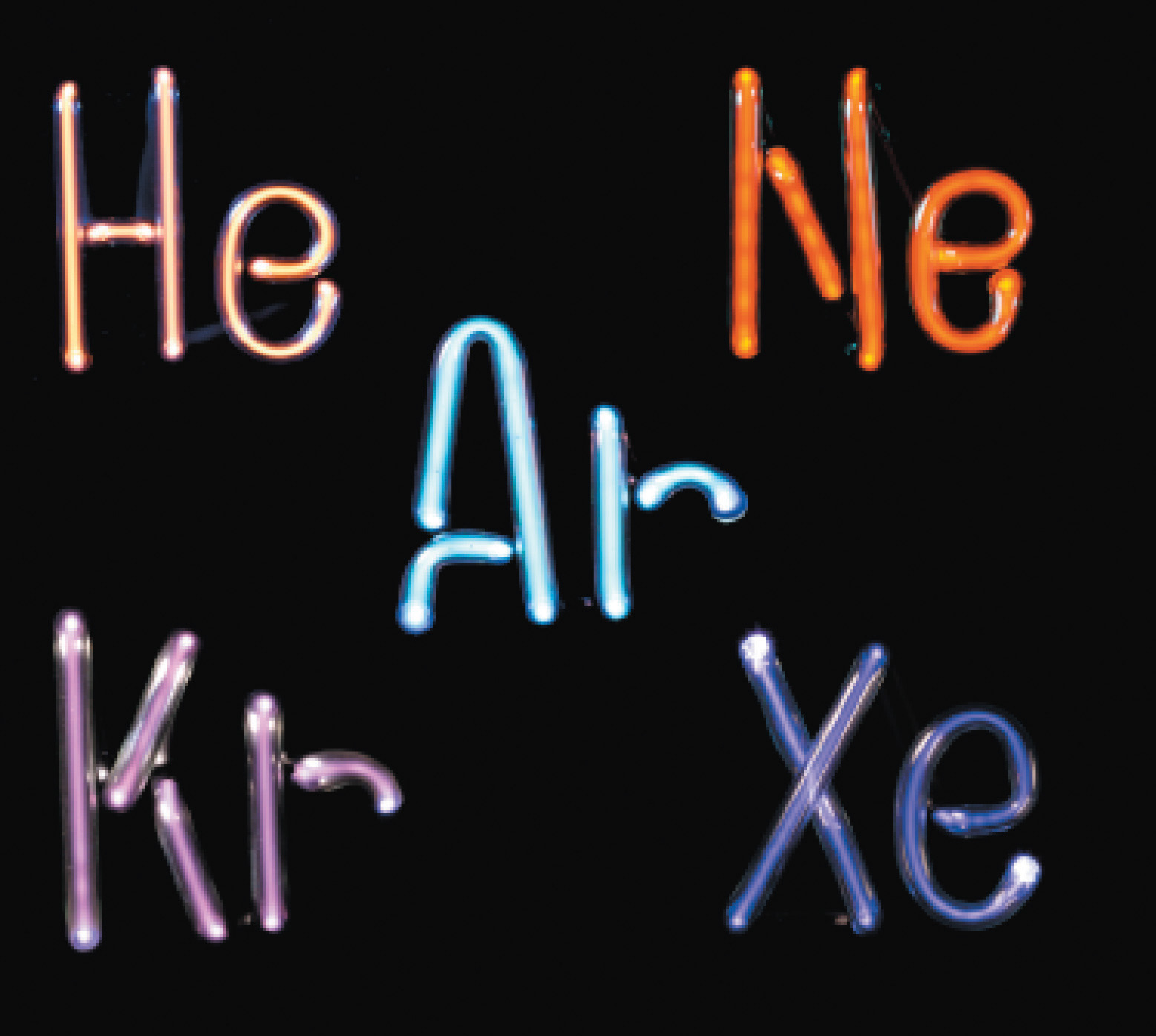 The noble gases. Helium, neon, argon, krypton, and xenon, all monatomic elements, are five of the six known noble gases. When atoms of these gases are excited by the flow of electrons in the discharge tubes, they emit photons of visible light in their characteristic spectral colors. All noble gases have the maximum number of electrons possible in their outer shell (2 for helium, 8 for all others), so they do not form chemical compounds easily.
In this chapter, we describe how electrons are arranged in atoms and how the spatial arrangements of electrons are related to their energies. We also explain how knowing the arrangement of electrons in an atom enables chemists to predict and explain the chemistry of an element. As you study the material presented in this chapter, you will discover how the shape of the periodic table reflects the electronic arrangements of elements. In this and subsequent chapters, we build on this information to explain why certain chemical changes occur and others do not.
After reading this chapter, you will know enough about the theory of the electronic structure of atoms to explain what causes the characteristic colors of neon signs, how laser beams are created, and why gemstones and fireworks have such brilliant colors. In later chapters, we will develop the concepts introduced here to explain why the only compound formed by sodium and chlorine is NaCl, an ionic compound, whereas neon and argon do not form any stable compounds, and why carbon and hydrogen combine to form an almost endless array of covalent compounds, such as CH4, C2H2, C2H4, and C2H6. You will discover that knowing how to use the periodic table is the single most important skill you can acquire to understand the incredible chemical diversity of the elements.