Study Aids:
Click the Study Aids tab at the bottom of the book to access your Study Aids (usually practice quizzes and flash cards).
Study Pass:
Study Pass is our latest digital product that lets you take notes, highlight important sections of the text using different colors, create "tags" or labels to filter your notes and highlights, and print so you can study offline. Study Pass also includes interactive study aids, such as flash cards and quizzes.
Highlighting and Taking Notes:
If you've purchased the All Access Pass or Study Pass, in the online reader, click and drag your mouse to highlight text. When you do a small button appears – simply click on it! From there, you can select a highlight color, add notes, add tags, or any combination.
Printing:
If you've purchased the All Access Pass, you can print each chapter by clicking on the Downloads tab. If you have Study Pass, click on the print icon within Study View to print out your notes and highlighted sections.
Search:
To search, use the text box at the bottom of the book. Click a search result to be taken to that chapter or section of the book (note you may need to scroll down to get to the result).
---
View Full Student FAQs
Chapter 11

Liquids

In Chapter 10 "Gases", you learned that attractive intermolecular forces cause most gases to condense to liquids at high pressure, low temperature, or both. Substances that normally are liquids are held together by exactly the same forces that are responsible for the liquefaction of gases. One such substance is water, the solvent in which all biochemical reactions take place. Because of its thermal properties, water also modulates Earth's temperature, maintaining a temperature range suitable for life. Other liquids are used to manufacture objects that we use every day—for example, a solid material is converted to a liquid, the liquid is injected into a mold, and it is then solidified into complex shapes under conditions that are carefully controlled. To understand such processes, our study of the macroscopic properties of matter must include an understanding of the properties of liquids and the interconversion of the three states of matter: gases, liquids, and solids.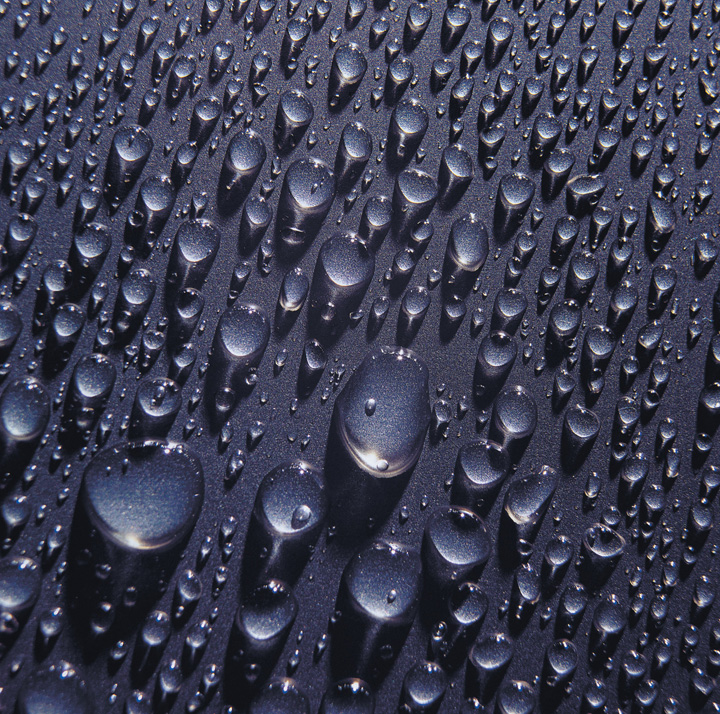 Water beading up on the surface of a freshly waxed car. The waxed, nonpolar surface does not interact strongly with the polar water molecules. The absence of attractive interactions causes the water to form round beads.
In this chapter, we look more closely at the intermolecular forces that are responsible for the properties of liquids, describe some of the unique properties of liquids compared with the other states of matter, and then consider changes in state between liquids and gases or solids. By the end of the chapter, you will understand what is happening at the molecular level when you dry yourself with a towel, why you feel cold when you come out of the water, why ice is slippery, and how it is possible to decaffeinate coffee without removing important flavor components. You will also learn how liquid crystal display (LCD) devices in electronic devices function, and how adhesive strips used to measure body temperature change color to indicate a fever.