Chapter 13 Solutions
We explored the general properties of gases, liquids, and solids in Chapter 10 "Gases", Chapter 11 "Liquids", and Chapter 12 "Solids", respectively. Most of the discussion focused on pure substances containing a single kind of atom, molecule, or cation–anion pair. The substances we encounter in our daily lives, however, are usually mixtures rather than pure substances. Some are heterogeneous mixtures, which consist of at least two phases that are not uniformly dispersed on a microscopic scale; others are homogeneous mixtures, consisting of a single phase in which the components are uniformly distributed. (For more information about homogeneous mixtures, see Chapter 1 "Introduction to Chemistry", Section 1.3 "A Description of Matter".) Homogeneous mixtures are also called solutionsA homogeneous mixture of two or more substances in which the substances present in lesser amounts (the solutes) are dispersed uniformly throughout the substance present in greater amount (the solvent).; they include the air we breathe, the gas we use to cook and heat our homes, the water we drink, the gasoline or diesel fuel that powers engines, and the gold and silver jewelry we wear.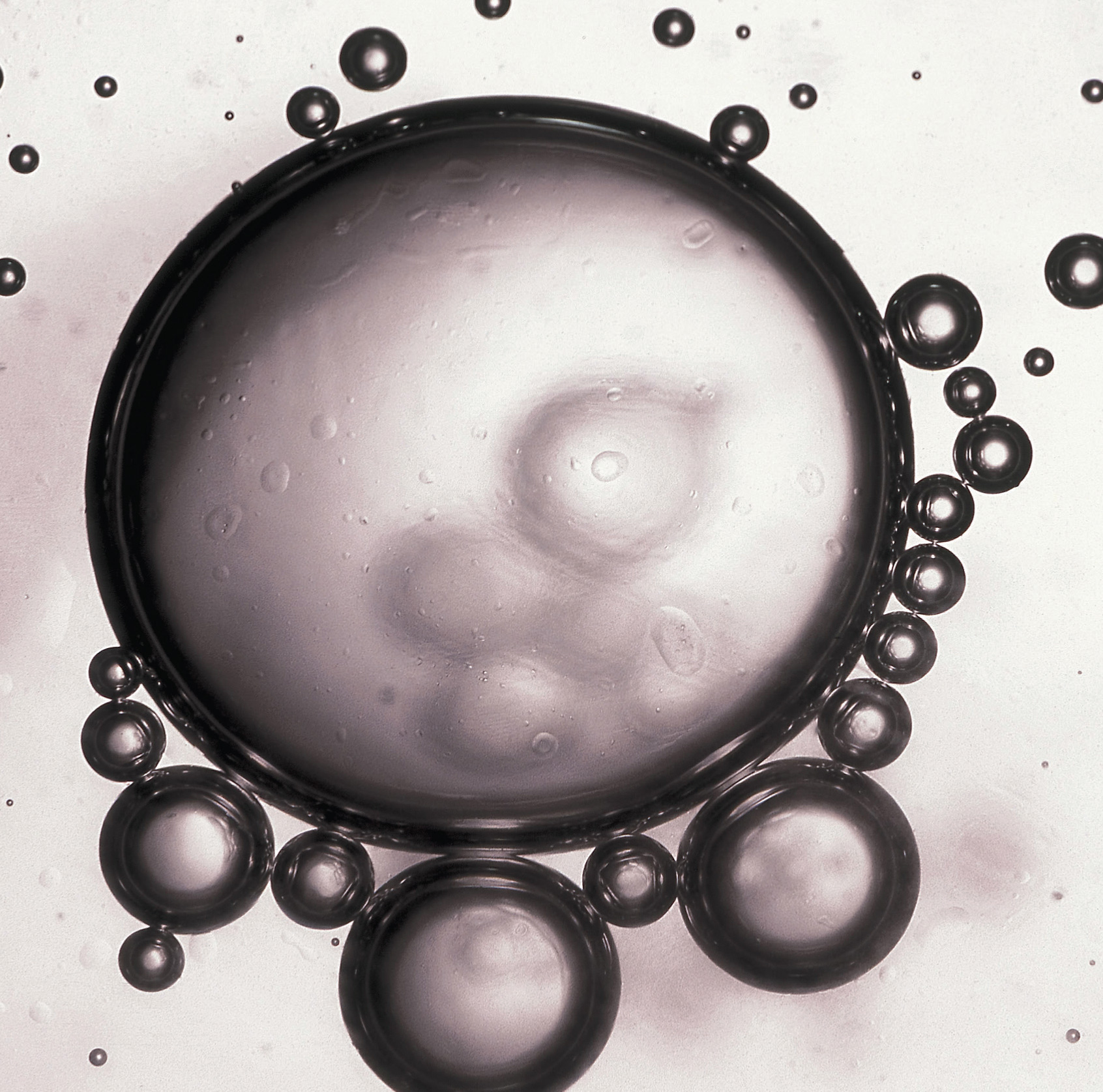 Beads of oil in water. When a nonpolar liquid such as oil is dispersed in a polar solvent such as water, it does not dissolve, but forms spherical beads. Oil is insoluble in water because the intermolecular interactions within the solute (oil) and the solvent (water) are stronger than the intermolecular interactions between the solute and the solvent.
Many of the concepts that we will use in our discussion of solutions were introduced in earlier chapters. In Chapter 4 "Reactions in Aqueous Solution", for example, we described reactions that occur in aqueous solution and how to use molarity to describe concentrations. In Chapter 4 "Reactions in Aqueous Solution", Chapter 7 "The Periodic Table and Periodic Trends", and Chapter 11 "Liquids", we introduced the principles that govern ion–ion and molecule–molecule interactions in pure substances; similar interactions also occur in solutions. Now we use the principles developed in those chapters to understand the factors that determine how much of one substance can dissolve in another, and how the properties of a solution differ from those of its components.
The properties of mixtures of gases were described in Chapter 10 "Gases", and the properties of certain types of solid solutions, such as alloys and doped semiconductors, were discussed in Chapter 12 "Solids". This chapter focuses on liquid solutions, aqueous or otherwise. By the end of this chapter, your understanding of solutions will enable you to explain why the radiator in your car must contain ethylene glycol to avoid damage to the engine on cold winter nights, why salt is spread on icy roads in the winter (and why it isn't effective when the temperature is too low), why certain vitamins accumulate in your body at toxic levels while others are rapidly excreted, and how salt can be removed from seawater to provide drinking water.