Study Aids:
Click the Study Aids tab at the bottom of the book to access your Study Aids (usually practice quizzes and flash cards).
Study Pass:
Study Pass is our latest digital product that lets you take notes, highlight important sections of the text using different colors, create "tags" or labels to filter your notes and highlights, and print so you can study offline. Study Pass also includes interactive study aids, such as flash cards and quizzes.
Highlighting and Taking Notes:
If you've purchased the All Access Pass or Study Pass, in the online reader, click and drag your mouse to highlight text. When you do a small button appears – simply click on it! From there, you can select a highlight color, add notes, add tags, or any combination.
Printing:
If you've purchased the All Access Pass, you can print each chapter by clicking on the Downloads tab. If you have Study Pass, click on the print icon within Study View to print out your notes and highlighted sections.
Search:
To search, use the text box at the bottom of the book. Click a search result to be taken to that chapter or section of the book (note you may need to scroll down to get to the result).
---
View Full Student FAQs
1.3

What Is Economics?
Learning Objectives
Define economics and identify factors of production.
Explain how economists answer the three key economics questions.
Compare and contrast economic systems.
To appreciate how a business functions, we need to know something about the economic environment in which it operates. We begin with a definition of economics and a discussion of the resources used to produce goods and services.
Resources: Inputs and Outputs
EconomicsStudy of how scarce resources are used to produce outputs—goods and services—that are distributed among people. is the study of the production, distribution, and consumption of goods and services. ResourcesInputs used to produce outputs. are the inputs used to produce outputs. Resources may include any or all of the following:
Land and other natural resources
Labor (physical and mental)
Capital, including buildings and equipment
Entrepreneurship
Resources are combined to produce goods and services. Land and natural resources provide the needed raw materials. Labor transforms raw materials into goods and services. Capital (equipment, buildings, vehicles, cash, and so forth) are needed for the production process. Entrepreneurship provides the skill and creativity needed to bring the other resources together to produce a good or service to be sold to the marketplace.
Because a business uses resources to produce things, we also call these resources factors of productionResources consisting of land, labor, capital (money, buildings, equipment), and entrepreneurial skills combined to produce goods and services.. The factors of production used to produce a shirt would include the following:
The land that the shirt factory sits on, the electricity used to run the plant, and the raw cotton from which the shirts are made
The laborers who make the shirts
The factory and equipment used in the manufacturing process, as well as the money needed to operate the factory
The entrepreneurship skill used to coordinate the other resources to initiate the production process and the distribution of the goods or services to the marketplace
Input and Output Markets
Many of the factors of production (or resources) are provided to businesses by households. For example, households provide businesses with labor (as workers), land and buildings (as landlords), and capital (as investors). In turn, businesses pay households for these resources by providing them with income, such as wages, rent, and interest. The resources obtained from households are then used by businesses to produce goods and services, which are sold to the same households that provide businesses with revenue. The revenue obtained by businesses is then used to buy additional resources, and the cycle continues. This circular flow is described in Figure 1.3 "The Circular Flow of Inputs and Outputs", which illustrates the dual roles of households and businesses:
Households not only provide factors of production (or resources) but also consume goods and services.
Businesses not only buy resources but also produce and sell both goods and services.
Figure 1.3 The Circular Flow of Inputs and Outputs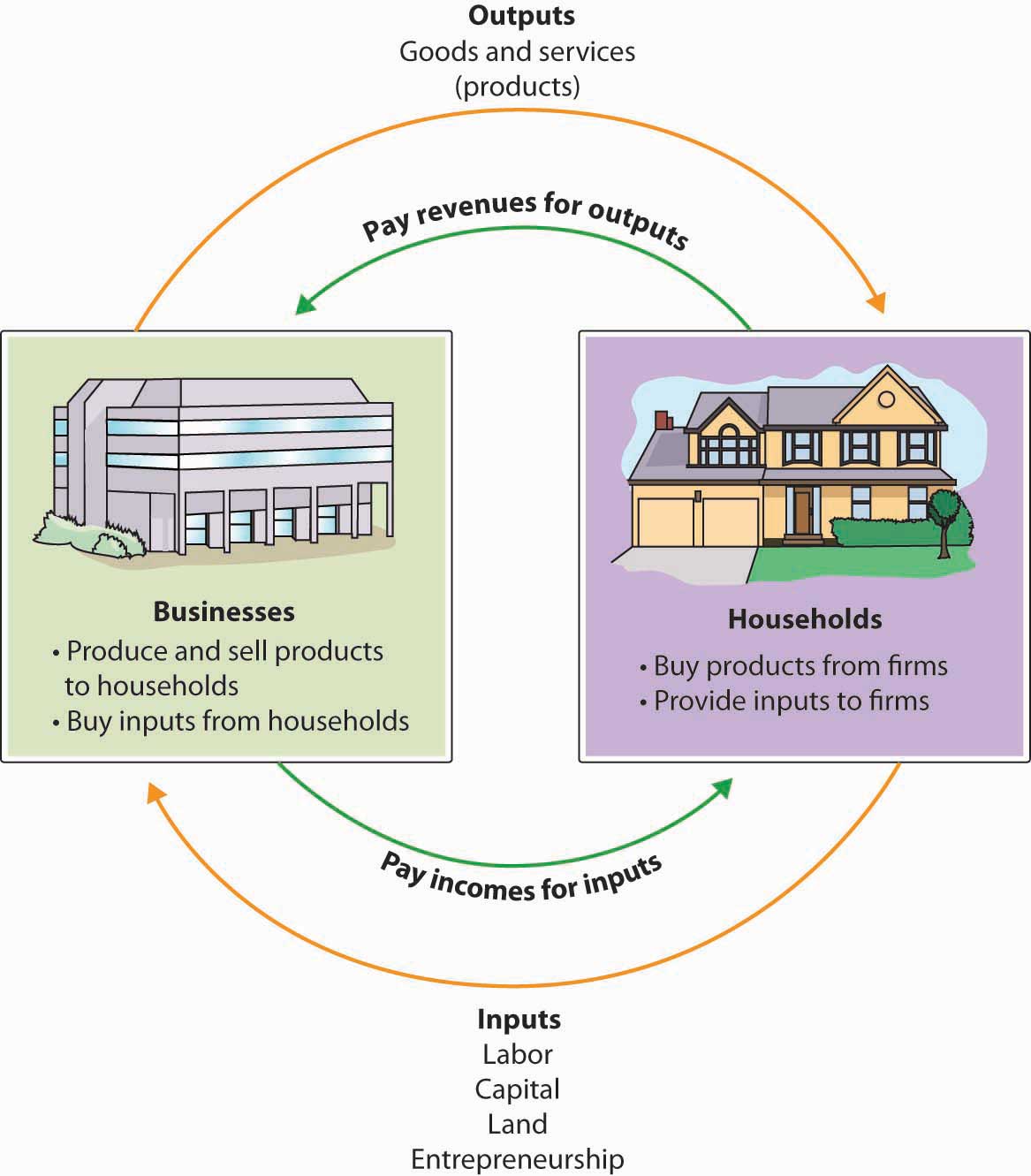 The Questions Economists Ask
Economists study the interactions between households and businesses and look at the ways in which the factors of production are combined to produce the goods and services that people need. Basically, economists try to answer three sets of questions:
What goods and services should be produced to meet consumers' needs? In what quantity? When should they be produced?
How should goods and services be produced? Who should produce them, and what resources, including technology, should be combined to produce them?
Who should receive the goods and services produced? How should they be allocated among consumers?
Economic Systems
The answers to these questions depend on a country's economic systemMeans by which a society makes decisions about allocating resources to produce and distribute products.—the means by which a society (households, businesses, and government) makes decisions about allocating resources to produce products and about distributing those products. The degree to which individuals and business owners, as opposed to the government, enjoy freedom in making these decisions varies according to the type of economic system. Generally speaking, economic systems can be divided into two systems: planned systems and free market systems.