Study Aids:
Click the Study Aids tab at the bottom of the book to access your Study Aids (usually practice quizzes and flash cards).
Study Pass:
Study Pass is our latest digital product that lets you take notes, highlight important sections of the text using different colors, create "tags" or labels to filter your notes and highlights, and print so you can study offline. Study Pass also includes interactive study aids, such as flash cards and quizzes.
Highlighting and Taking Notes:
If you've purchased the All Access Pass or Study Pass, in the online reader, click and drag your mouse to highlight text. When you do a small button appears – simply click on it! From there, you can select a highlight color, add notes, add tags, or any combination.
Printing:
If you've purchased the All Access Pass, you can print each chapter by clicking on the Downloads tab. If you have Study Pass, click on the print icon within Study View to print out your notes and highlighted sections.
Search:
To search, use the text box at the bottom of the book. Click a search result to be taken to that chapter or section of the book (note you may need to scroll down to get to the result).
---
View Full Student FAQs
Chapter 4

Selecting a Form of Business Ownership
The Ice Cream Men
Who would have thought it? Two ex-hippies with strong interests in social activism would end up starting one of the best-known ice cream companies in the country—Ben & Jerry's. Perhaps it was meant to be. It seems that Ben Cohen (the "Ben" of Ben & Jerry's) always had a fascination with ice cream. As a child, he made his own ice cream mixtures by smashing his favorite cookies and candies into his ice cream. But it wasn't until his senior year in high school that he became an official "ice cream man," happily driving his truck through neighborhoods filled with kids eager to buy his ice cream pops. After high school, Ben tried college but it wasn't for him. He attended Colgate University for a year and a half before he dropped out to return to his real love: being an ice cream man. He tried college again—this time at Skidmore, where he studied pottery and jewelry making—but, in spite of his selection of courses, still didn't like it.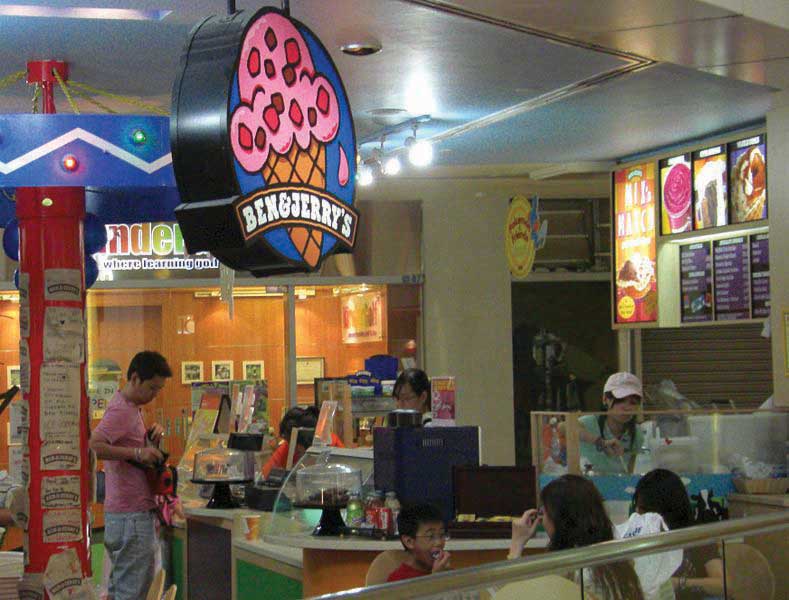 What's your favorite Ben & Jerry's flavor?
In the meantime, Jerry Greenfield (the "Jerry" of Ben & Jerry's) was following a similar path. He majored in premed at Oberlin College and hoped to become a doctor. But he had to give up on this goal when he was not accepted into medical school. On a positive note, though, his college education steered him into a more lucrative field: the world of ice cream making. He got his first peek at the ice cream industry when he worked as a scooper in the student cafeteria at Oberlin. So, fourteen years after they met, Ben and Jerry reunited and decided to go into ice cream making big time. They moved to Burlington, Vermont—a college town in need of an ice cream parlor—and completed a $5 correspondence course from Penn State on making ice cream (they were practically broke at the time so they split the course). After getting an A in the course—not surprising, given that the tests were open book—they took the plunge: with their life savings of $8,000 (plus $4,000 of borrowed funds) they set up an ice cream scoop shop in a made-over gas station on a busy street corner in Burlington. The next big decision was which form of business ownership was best for them. This chapter introduces you to their options.