Chapter 15 Managing Information and Technology
A Winning Hand for Caesars
If you enjoy gambling and want to be pampered, the Las Vegas Strip is the place for you.In November 2010, Harrah's Entertainment, Inc. changed its name to Caesars Entertainment Corporation. The Harrah's name will still be one of the newly named company's primary brands, in addition to Caesars and Horseshoe. The four-mile stretch is home to some of the world's most lavish hotels and casinos, each competing for its share of the thirty-seven million visitors who pack the city each year.Kyle Hansen, "Las Vegas Records 2.7 Percent Increase in Visitors for 2010," Las Vegas Sun, February 8, 2011, http://www.lasvegassun.com/news/2011/feb/08/las-vegas-records-27-percent-increase-visitors-201/ (accessed November 14, 2011). The Strip is a smorgasbord of attractions. At the luxurious Mirage, you can witness the eruption of a seventy-foot volcano every quarter hour. The five-star Bellagio resort boasts a $300 million art collection (including Picassos and Van Goghs). There are star-studded shows, upscale retailers, and posh restaurants with award-winning chefs. You can relax at pools and spas or try your luck in the casinos.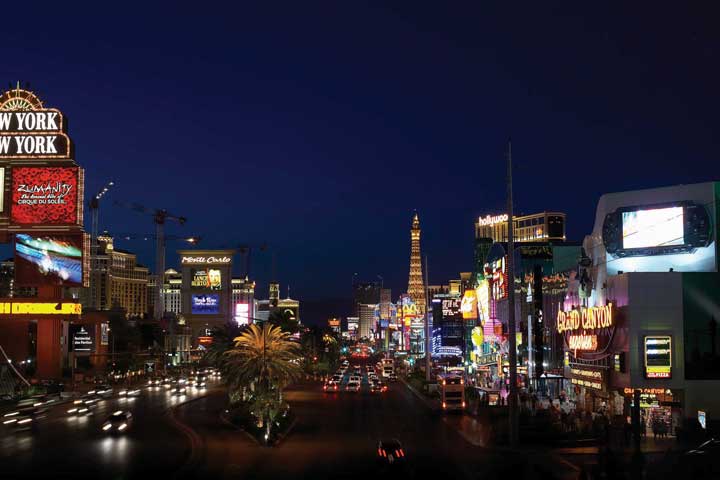 Caesars Entertainment, formerly called Harrah's Entertainment, has become an industry leader in the gaming and entertainment industry by effectively using technology.
© 2010 Jupiterimages Corporation
So how does a gaming and entertainment company compete in this environment? If you've ever been to Las Vegas, you know that a lot of them erect mammoth, neon-bathed, brick-and-mortar casino-resorts. A few, however, do what Caesars did in the late 1990s: they invest heavily in technology and compete through the effective use of information. What kind of information? Marketers at Caesars collect information about the casino's customers and then use it to entice the same people to return. Does the strategy work? Caesars is the world's largest casino entertainment company in the world.Caesars, "Company Information," Caesars, http://www.caesars.com/corporate/ (accessed November 14, 2011).
Throughout this chapter, we'll discuss the information needs of Caesars's top executives, managers, and other employees. We'll examine the ways in which the company uses technology to collect data and process them into information that can be used at every level of the organization.