Study Aids:
Click the Study Aids tab at the bottom of the book to access your Study Aids (usually practice quizzes and flash cards).
Study Pass:
Study Pass is our latest digital product that lets you take notes, highlight important sections of the text using different colors, create "tags" or labels to filter your notes and highlights, and print so you can study offline. Study Pass also includes interactive study aids, such as flash cards and quizzes.
Highlighting and Taking Notes:
If you've purchased the All Access Pass or Study Pass, in the online reader, click and drag your mouse to highlight text. When you do a small button appears – simply click on it! From there, you can select a highlight color, add notes, add tags, or any combination.
Printing:
If you've purchased the All Access Pass, you can print each chapter by clicking on the Downloads tab. If you have Study Pass, click on the print icon within Study View to print out your notes and highlighted sections.
Search:
To search, use the text box at the bottom of the book. Click a search result to be taken to that chapter or section of the book (note you may need to scroll down to get to the result).
---
View Full Student FAQs
Chapter 2

Personality, Attitudes, and Work Behaviors

Figure 2.1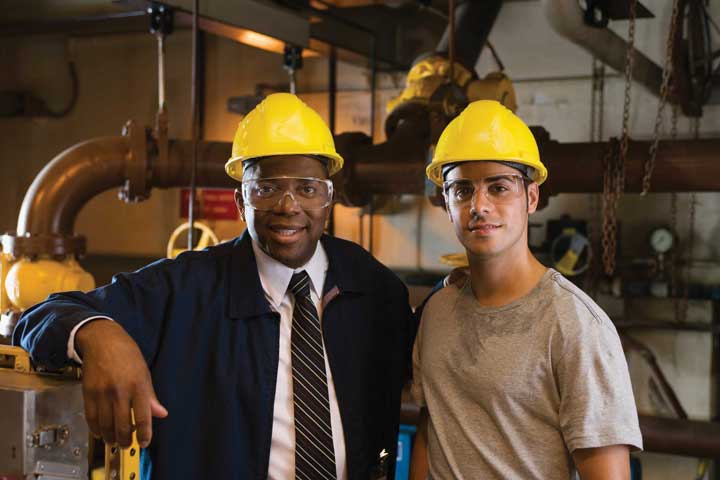 Successful organizations depend on getting the right mix of individuals in the right positions at the right times.
What's in It for Me?
Reading this chapter will help you do the following:
Understand the roles of personality and values in determining work behaviors.
Explain the process of perception and how it affects work behaviors.
Identify the major work attitudes that affect work behaviors.
Define the concept of person-organization fit and how it affects work behaviors.
List the key set of behaviors that matter for organizational performance.
Be able to develop your positive attitude skills.
Figure 2.2 The P-O-L-C Framework

Individuals bring a number of differences to work. They have a variety of personalities, values, and attitudes. When they enter into organizations, their stable or transient characteristics affect how they behave and perform. Moreover, companies hire people with the expectation that they have certain knowledge, skills, abilities, personalities, and values.
Recall that you are learning about the principles of management through the planning-organizing-leading-controlling (P-O-L-C) framework. Employees' personalities, attitudes, and work behaviors affect how managers approach each P-O-L-C dimension. Here are just a few examples:
When conducting environmental scanning during the planning process, a manager's perceptions color the information that is absorbed and processed.
Employee preferences for job design and enrichment (aspects of organizing) may be a function of individuals' personalities and values.
Leading effectively requires an understanding of employees' personalities, values, and attitudes.
Absenteeism can challenge a manager's ability to control costs and performance (both at the group and individual levels).
Therefore, it is important for managers to understand the individual characteristics that matter for employee and manager behaviors.