Faculty:
Read & modify our textbooks
Students:
Start by locating your class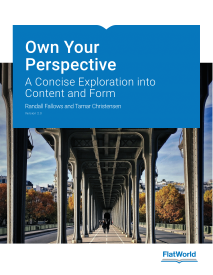 Analytical Explorations of Content and Form: A Concise Guide,
v. 1.0
By:

Randall Fallows and Tamar Christensen
Pub Date:

December 2016

eISBN:

978-1-4533-8376-6

Pages:

96
What do you want to do?
Table of Contents:
Show me how easy it is to modify this textbook >
INSTRUCTORS:
Interested in combining chapters from this book with your own or other third party content?
XanEdu can help.
Learn more »
Product Details:
Available Formats:
Online Access [Required] $24.95
Online Access [Required] + Ebook Downloads $34.95
Online Access [Required] + Black & White Textbook* $34.95
Online Access [Required] + Ebook Downloads + Black & White Textbook* $44.95

* Moving to color textbooks in the spring of 2017 for the same price.
Summary:
The reason why Randall Fallows and Tamar Christensen wrote Analytical Explorations of Content and Form is simple: to help give students a better understanding of how to discover, develop, and revise an analytical essay. This title is an update of Exploring Perspectives: A Concise Guide to Analysis. The authors added more diverse and current examples throughout the text as well as a central example for each chapter that shows how analysis builds as they look at the same subject through different perspectives. The authors integrated the use of research more accurately into the process of writing in general, discussing when to consult sources and when to respond to them. And, most important, a new chapter was added on alternative forms of analysis so that students could explore their perspectives through context as well as content. The authors believe that all of these changes enhance the fundamental goal of the book, to help students to think about a subject critically and express themselves effectively. Here is how this 5-chapter book goes about doing just that:
The first chapter focuses on the nature of an analysis and what's involved in writing an analytical essay. The authors show that analysis consists of a balance of assertions (statements which present their viewpoints or launch an exploration of their concerns), examples (specific passages/scenes/events which inspire these views), explanations (statements that reveal how the examples support the assertions), and significance (statements which reveal the importance of their study to personal and/or cultural issues). After showing why each feature should be present throughout an essay, students learn how to "set the stage" for producing one of their own.
The next two chapters reveal more specific advice on how to explore each of these features individually. The authors discuss how to read a subject thoroughly, focusing on strategies for researching its rhetorical context and exploring its various components in order to develop an informed opinion or working thesis. They reveal how to justify and show the significance of this thesis in light of both purpose and audience, and show how this thesis will evolve and become more complicated as students consider it in light of what others have written, returning to research in a more directed and nuanced manner.
The final two chapters suggest strategies for expressing analysis in both traditional and alternative forms. The authors help students to articulate their views in a more traditional, thesis-driven essay, and discuss how they might utilize alternative forms, such as "the multigenre essay" and "the grammar b essay." In each of these chapters, students are provided with examples, advice, and exercises that will help them to discover and develop their perspectives through a critical reading of both their subjects and their own drafts. The authors underscore the recursive nature of writing by demonstrating how careful, deliberate expression leads back to more profound and complex thinking.
Analytical Explorations of Content and Form by Randall Fallows and Tamar Christensen will help to prepare any student to write analytical essays for the argument and persuasion courses. The authors are confident that after students read this book, the resulting writing on any subject will be far more sophisticated, meaningful, and varied—more challenging yet more fulfilling for the students to write and far more interesting for their teachers to read. But don't take our word for it; click on "Start Reading Now" or order a desk copy to see for yourself.
Supplements:
This textbook comes with the following materials that you can use in your classroom.
Connect:
Who's Using this Textbook?