Faculty:
Read & modify our textbooks
Students:
Start by locating your class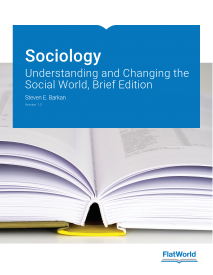 Sociology: Understanding and Changing the Social World, Brief Edition,
v. 1.0
Pub Date:

September 2010

eISBN:

978-1-4533-2720-3

Pages:

404
What do you want to do?
Table of Contents:
Show me how easy it is to modify this textbook >
INSTRUCTORS:
Interested in combining chapters from this book with your own or other third party content?
XanEdu can help.
Learn more »
Product Details:
Available Formats:
Online Access [Required] $29.95
Online Access [Required] + Ebook Downloads $49.95
Online Access [Required] + Black & White Textbook $69.95
Online Access [Required] + Color Textbook $139.95
Online Access [Required] + Ebook Downloads + Color Textbook $159.95
Summary:
The founders of sociology in the United States wanted to make a difference. A central aim of the sociologists of the Chicago school was to use sociological knowledge to achieve social reform. A related aim of sociologists like Jane Addams, W.E.B. DuBois, and Ida B. Wells-Barnett and others since was to use sociological knowledge to understand and alleviate gender, racial, and class inequality.
It is no accident that many sociology instructors and students are first drawn to sociology because they want to learn a body of knowledge that could help them make a difference in the world at large. Steve Barkan's
Sociology: Understanding and Changing the Social World
is designed for this audience. It presents a sociological understanding of society but also a sociological perspective on how to change society, while maintaining the structure and contents of the best mainstream texts.
Several pedagogical features of the book convey the sociological perspective and change theme:
Almost every chapter begins with a
Social Issues in the News
story from recent media coverage that recounts an event related to the chapter's topic and proceeds with thought-provoking discussion about the social issue related to the event. Additional discussion elsewhere in the chapter helps students understand the basis for this issue and related issues. This dual treatment of the news story will help students appreciate the relevance of sociology for newsworthy events and issues.
Three types of boxes in almost every chapter reflect the U.S. founders' emphasis on sociology and social justice. The first box,
Sociology Making a Difference
, discusses a social issue related to the chapter's topic and shows how sociological insights and findings have been used, or could be used, to address the issue and achieve social reform. The second box,
Learning from Other Societies
, discusses the experience in another nation(s) regarding a social issue related to the chapter; this box helps students appreciate what has worked and not worked in other nations regarding the issue and thus better understand how social reform might be achieved in the United States. The third box,
What Sociology Suggests
, summarizes social policies grounded in sociological theory and research that hold strong potential for addressing issues discussed in the chapter.
In addition, many chapters contain tables called
Theory Snapshots
. These tables provide a quick reference tool for students to understand the varying theoretical approaches to the sociological topic that the chapter is discussing.
Finally, almost every chapter ends with a
Using Sociology
vignette that presents a hypothetical scenario concerning an issue or topic from the chapter and asks students to use the chapter's material in a decision-making role involving social change. These vignettes help students connect the chapter's discussion with real-life situations and, in turn, to better appreciate the relevance of sociological knowledge for social reform.
Drawing on these features and other discussion throughout the book, a brief and unique final chapter,
"Conclusion: Understanding and Changing the Social World,"
sums up what students have learned about society and themselves and reviews the relevance of sociology for achieving social change.
Flat World Knowledge has an exciting new model for making textbooks available online, anytime, anywhere, while offering inexpensive options for students' convenience. In this innovative spirit, Steve Barkan's
Sociology: Understanding and Changing the Social World
makes sociology relevant for today's students by balancing traditional coverage with a fresh approach that ironically takes them back to sociology's American roots in the use of sociological knowledge for social reform.
Supplements:
This textbook comes with the following materials that you can use in your classroom.
Test Item File
Need assistance in supplementing your quizzes and tests? Our test item files (in Word format) contain many true/false, multiple choice, fill in the blanks, and short essay questions.
Instructor Manual
The Instructor Manual will help guide you through the main concepts of each chapter such as learning objectives, key terms and takeaways. Many also include explanations and answers to chapter exercises.
Powerpoint Lecture Notes
A PowerPoint presentation highlighting key learning objectives and the main concepts for each chapter are available for you to use in your classroom. You can either cut and paste sections or use the presentation as a whole
Test Generator
Prefer printable tests? Download our test generator powered by Brownstone and start creating printable tests today! We offer a test generator for both PC and Mac users.
Testbank for Import to Learning Management System
We have taken our test item file and created files to import into the following Learning Management Systems*: Blackboard, Angel, Moodle, WebCT. We also support a Respondus Neutral file that you can use to easily import our questions in any LMS supported by Respondus. * Please note that only certain versions of each LMS are supported. Click on Supplements for detailed information
Connect:
Who's Using this Textbook?