Faculty:
Read & modify our textbooks
Students:
Start by locating your class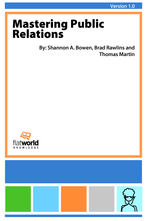 Mastering Public Relations,
v. 1.0
By:

Shannon A. Bowen, Brad Rawlins and Thomas Martin
Pub Date:

February 2012

eISBN:

978-1-4533-4359-3

Pages:

168
What do you want to do?
Product Details:
Student Formats:
Digital All Access Pass $39

Access to online, offline, and eBook formats: online book with Study Pass, chapter PDFs, and eBook files for tablets, e-readers, and smartphones.

Study Pass $24

Access to the online book only with study tools like note-taking and highlighting; study aids like flashcards; and study view, which collapses each chapter into key terms and key takeaways.

Black & White Print Textbook $59

Bonus access to online and eBooks.
Summary:
Mastering Public Relations provides an executive overview of the field of public relations with a focus on what managers need to know to master the function quickly and effectively.
Bowen, Rawlins, and Martin bring to bear on the topic of public relations management their research and academic knowledge in the areas of business management and strategy, mass communication, marketing, public relations, organizational communication, journalism, ethics, and public opinion along with years of professional experience in managing public relations. There is not a more experienced author team to help you teach your students the practice of PR.
Throughout the text, the authors integrate the academic with the professional by asking: How can an executive use this knowledge to make the most of the public relations function, department, and initiatives in order to help their whole organization be successful?
If you want to bring your students a strong mix of theory and applications in your PR course, then review Bowen, Rawlins, and Martin's Mastering Public Relations today.
Supplements:
This textbook comes with the following materials that you can use in your classroom.
Powerpoint Lecture Notes
A PowerPoint presentation highlighting key learning objectives and the main concepts for each chapter are available for you to use in your classroom. You can either cut and paste sections or use the presentation as a whole
Instructor Manual
The Instructor Manual will help guide you through the main concepts of each chapter such as learning objectives, key terms and takeaways. Many also include explanations and answers to chapter exercises.
Test Item File
Need assistance in supplementing your quizzes and tests? Our test item files (in Word format) contain many true/false, multiple choice, fill in the blanks, and short essay questions.
Connect:
Who's Using this Textbook?