Faculty:
Read & modify our textbooks
Students:
Start by locating your class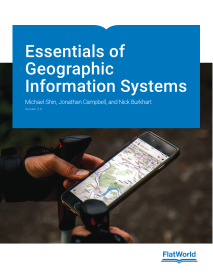 Essentials of Geographic Information Systems,
v. 2.0
By:

Michael Shin, Jonathan Campbell, and Nick Burkhart
Pub Date:

September 2015

eISBN:

978-1-4533-7332-3

Pages:

200
What do you want to do?
Table of Contents:
Show me how easy it is to modify this textbook >
INSTRUCTORS:
Interested in combining chapters from this book with your own or other third party content?
XanEdu can help.
Learn more »
Product Details:
Available Formats:
Online Access [Required] $29.95
Online Access [Required] + Ebook Downloads $49.95
Online Access [Required] + Black & White Textbook* $54.95
Online Access [Required] + Ebook Downloads + Black & White Textbook* $74.95

* Moving to color textbooks in the spring of 2017 for the same price.
Summary:
Essentials of Geographic Information Systems integrates key concepts behind the technology with practical concerns and real-world applications. Recognizing that many potential GIS users are non-specialists or may only need a few maps, this book is designed to be accessible, pragmatic and concise. Essentials of Geographic Information Systems also illustrates how GIS is used to ask questions, inform choices and guide policy. From the melting of the polar ice caps to privacy issues associated with mapping, this book provides a gentle, yet substantive, introduction to the use and application of digital maps, mapping and GIS.
Maps are everywhere - on the internet, in your car and even on your mobile phone. Moreover, maps of the 21st century are not just paper diagrams folded like an accordion. Maps today are colorful, searchable, interactive and shared. This transformation of the static map into dynamic and interactive multimedia reflects the integration of technological innovation and vast amounts of geographic data. The key technology behind this integration, and subsequently the maps of the 21st century, is geographic information systems or GIS.
In today's world, learning involves knowing how and where to search for information. In some respects, knowing where to look for answers and information is arguably just as important as the knowledge itself. Because the authors designed Essentials of GIS to be concise, focused and directed, readers are encouraged to search for supplementary information and to follow-up on specific topics of interest on their own when necessary. This text provides the foundations for learning GIS, but readers are encouraged to construct their own individual frameworks of GIS knowledge. The benefits of this approach are two-fold. First, it promotes active learning through re/search. Second, it facilitates flexible and selective learning, i.e., what is learned is a function of individual needs and interest.
Since GIS and related geospatial and navigation technology change so rapidly, a flexible and dynamic text is necessary in order to stay current and relevant. Though essential concepts in GIS tend to remain constant, the situations, applications and examples of GIS are fluid and dynamic. The Flat World model of publishing with the MIYO (Make It Your Own) customization platform is especially relevant for a text that deals with information technology. The authors can keep the text updated easily, and you, the instructor, can add content on the technology that you find timely and relevant to the book with a few clicks on the mouse.
Though this book is intended for use in introductory GIS courses, Essentials of Geographic Information Systems will also appeal to the large number of certificate, professional, extension and online programs in GIS that are available today. Order your desk copy of Essentials of Geographic Information Systems or view it online to evaluate it for your course.
What's new in Version 2.0?
The world of maps, mapping and GIS continues to advance, grow and expand at an ever-increasing pace. From the rise of open (geospatial!) data sources to new web-based mapping platforms, knowing what to map, where to map and how to map, has never been more important than in today's world. Drawing from student and instructor feedback, Essentials of GIS, version 2.0, maintains its razor-like focus on mapping and GIS fundamentals, and also brings the world of web mapping into the mix! In particular, Essentials of GIS, version 2.0, contains:
1. A revised chapter structure designed to improve the learning of geographic concepts, highlight the elements of mapping, and reinforce the essentials of GIS.
2. A new chapter on web mapping that covers its origins and development, and how web mapping works.
3. The familiar focus on the foundations and fundamentals of GIS, and an approach that is GIS software neutral.
Are you interested in using open source GIS? Essentials of GIS, version 2.0, is for you! Do you need to get up to speed with mapping and GIS for work? Essentials of GIS, version 2.0, is for you! Are you curious to learn about maps, mapping and GIS? Essentials of GIS, version 2.0, is for you!
Supplements:
This textbook comes with the following materials that you can use in your classroom.
Test Item File
Need assistance in supplementing your quizzes and tests? Our test item files (in Word format) contain many true/false, multiple choice, fill in the blanks, and short essay questions.
Instructor Manual
The Instructor Manual (in Word format) will help guide you through the main concepts of each chapter such as learning objectives, key terms and takeaways. Many also include explanations and answers to chapter exercises.
Powerpoint Lecture Notes
A PowerPoint presentation highlighting key learning objectives and the main concepts for each chapter are available for you to use in your classroom. You can either cut and paste sections or use the presentation as a whole
Testbank for Import to Learning Management System
We have taken our test item file and created files to import into several Learning Management Systems. Click for detailed information and file availability.
Connect:
Who's Using this Textbook?