Faculty:
Read & modify our textbooks
Students:
Start by locating your class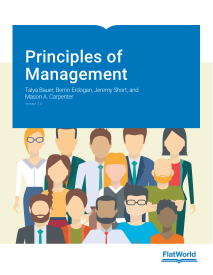 Principles of Management,
v. 3.0
By:

Talya Bauer, Berrin Erdogan, Jeremy Short, and Mason Carpenter
Pub Date:

June 2016

eISBN:

978-1-4533-7503-7

Pages:

446
What do you want to do?
Table of Contents:
Show me how easy it is to modify this textbook >
INSTRUCTORS:
Interested in combining chapters from this book with your own or other third party content?
XanEdu can help.
Learn more »
Product Details:
Available Formats:
Online Access [Required] $29.95
Online Access [Required] + Ebook Downloads $49.95
Online Access [Required] + Color Textbook $54.95
Online Access [Required] + Ebook Downloads + Color Textbook $74.95
Summary:
Principles of Management, v. 3.0
Talya Bauer, Berrin Erdogan, Jeremy Short & Mason Carpenter
---
WHAT'S NEW IN 3.0:
UPDATED CHAPTER CASES:

All end-of-chapter cases were either rewritten to include the latest content or new content. New cases include well-known companies such as Netflix, Starbucks, GE, Nordstrom, and other companies that are relatable to students commonly enrolled in Principles of Management courses. Other new cases focus on contemporary management challenges such as how to best communicate given the current social media landscape.

INTERACTIVE VIDEO ELEMENTS:

New video links have been added throughout the book. For example, we now include links to music videos inspired by material in each chapter created specifically for this course by the improv group Twinprov.

STREAMLINED CONTENT:

This edition is streamlined to make key points more quickly and powerfully than ever before. Chapters have been updated to include the most relevant information while removing distractions.

NEW FACTS, FIGURES, & BUSINESS EXAMPLES:

All facts and figures have been updated with the most current information. New businesses are featured throughout the book, and new business examples are included as welt.

---

In writing Principles of Management, vol. 3.0, Bauer, Erdogan, Short, and Carpenter all had simple aims:


To teach management principles to tomorrow's business leaders by weaving three threads through every chapter: strategy, entrepreneurship, and leadership

---

This textbook is suitable for these courses: Principles of Management

This textbook is suitable for 2 and 4 year institutions.

---

PEDAGOGICAL FEATURES:

STRATEGY:

This text frames performance using the notion of the triple bottom-line: financial, social, and environmental performance. It is important for all students to understand the interdependence of these three facets of organizational performance.

ENTREPRENEURSHIP:

There is a growing trend that students see themselves as entrepreneurs and active change agents, not just as managers. By starting fresh with an entrepreneurial/change management orientation, this text provides an exciting perspective on the art of management.

ACTIVE LEADERSHIP:

Starting with the opening chapter, this text shows students how leaders and leadership are essential to personal and organizational effectiveness.

CUSTOMIZABILITY:

The Flat World Knowledge publishing model allows instructors to adapt the textbook to the exact needs of their specific class and student body.

See how easy it is to customize a textbook in this 4 minute demo: Flat World Editing Platform Video Demo




In addition, the authors provide brief cases in the Instructors Manual for those who take a case approach to the course or who wish to incorporate cases.

---

This edition of Principles of Management is dedicated to Dr. Mason Carpenter (1961-2011). Mason's love for and commitment to teaching and research are sorely missed. His original vision for this book lives on in this edition as do many of his words and examples. Working with Mason was a joy and we are lucky to have had the chance to know him and call him a friend, coauthor, and colleague. Thank you, Mason.
Supplements:
This textbook comes with the following materials that you can use in your classroom.
Test Item File
Need assistance in supplementing your quizzes and tests? Our test item files (in Word format) contain many true/false, multiple choice, fill in the blanks, and short essay questions.
Instructor Manual
The Instructor Manual (in Word format) will help guide you through the main concepts of each chapter such as learning objectives, key terms and takeaways. Many also include explanations and answers to chapter exercises.
Powerpoint Lecture Notes
A PowerPoint presentation highlighting key learning objectives and the main concepts for each chapter are available for you to use in your classroom. You can either cut and paste sections or use the presentation as a whole
Test Generator
Prefer printable tests? Download our test generator and start creating printable tests today! We offer a test generator for both PC and Mac users.
Testbank for Import to Learning Management System
We have taken our test item file and created files to import into several Learning Management Systems. Click for detailed information and file availability.
Connect:
Who's Using this Textbook?