Faculty:
Read & modify our textbooks
Students:
Start by locating your class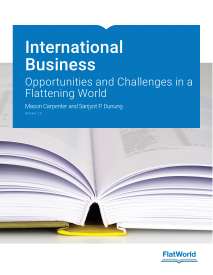 International Business: Opportunities and Challenges in a Flattening World,
v. 1.0
By:

Mason Carpenter and Sanjyot P. Dunung
Pub Date:

August 2011

eISBN:

978-1-4533-2822-4

Pages:

436
What do you want to do?
Product Details:
Student Formats:
Digital All Access Pass $39

Access to online, offline, and eBook formats: online book with Study Pass, chapter PDFs, and eBook files for tablets, e-readers, and smartphones.

Study Pass $24

Access to the online book only with study tools like note-taking and highlighting; study aids like flashcards; and study view, which collapses each chapter into key terms and key takeaways.

Black & White Print Textbook $59

Bonus access to online and eBooks.

Color Print Textbook $139

Bonus access to online book.
Summary:
International Business is one of the most challenging and exciting courses to teach in the Business School. To teach a current, dynamic and complete course you need a textbook by authors as passionate and informed about International Business as you are.
Carpenter and Dunung's
International Business: The Opportunities and Challenges of a Flat World
provides exploration into building, leading, and thriving in global organizations in an increasingly flat world. The authors define "Flat world" as one where (1) service industries that dwarf manufacturing industries in terms of scale and scope, (2) an Internet that pervades life and work, and (3) networks define modern businesses, whether service or manufacturing.
Carpenter and Dunung's text is designed to speak to technologically-savvy students who see national borders as bridges and not barriers. The authors use the lexicon of international business, and additionally, develop students' knowledge of international contexts with the aim that they may launch, run, and work in any organization that is global in scope (or is wrestling with global competition or other global threats).
A five part approach
The textbook is organized in 5 Sections:
Section 1: Introduces the global business course and concludes with a chapter on seizing global opportunities.


Section 2: Develops student knowledge about key facets of the global business environment


Section 3: Develops knowledge about how a student or organization can exploit opportunities in that global environment.


Section 4: Explores why the entrepreneurial context is changing and provides a lens for identifying and capitalizing on entrepreneurial opportunities.


Section 5: Shows how key organizational activities can be managed for global effectiveness.



Chapter features



Every chapter has five enumerated learning objectives, each of these five sections concludes with a short summary ("Key Takeaways") and five review questions. In addition, each chapter concludes with a mini case on a unique global business that encompasses the topics shown in the chapter.


The authors even provide a set of end-of-chapter questions that are mapped to AACSB learning standards, so that you will be able to measure how well students are grasping course content that aligns with the AACSB guidelines.



Request a desk copy of Carpenter and Dunung's International Business: The Opportunities and Challenges of a Flat World to experience its current and progressive look at International Business for yourself.
Supplements:
This textbook comes with the following materials that you can use in your classroom.
Powerpoint Lecture Notes
A PowerPoint presentation highlighting key learning objectives and the main concepts for each chapter are available for you to use in your classroom. You can either cut and paste sections or use the presentation as a whole
Test Item File
Need assistance in supplementing your quizzes and tests? Our test item files (in Word format) contain many true/false, multiple choice, fill in the blanks, and short essay questions.
Instructor Manual
The Instructor Manual will help guide you through the main concepts of each chapter such as learning objectives, key terms and takeaways. Many also include explanations and answers to chapter exercises.
Test Generator
Prefer printable tests? Download our test generator powered by Brownstone and start creating printable tests today! We offer a test generator for both PC and Mac users.
Other Supplements
Solutions manuals, sample exams, video learning segments, workbooks, cases and lab manuals are just some of the extras our books will offer depending on the needs of the course. Click here to see what this textbook offers.
Testbank for Import to Learning Management System
We have taken our test item file and created files to import into the following Learning Management Systems*: Blackboard, Angel, Moodle, WebCT. We also support a Respondus Neutral file that you can use to easily import our questions in any LMS supported by Respondus. * Please note that only certain versions of each LMS are supported. Click on Supplements for detailed information
Connect:
Who's Using this Textbook?