Faculty:
Read & modify our textbooks
Students:
Start by locating your class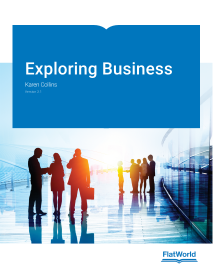 Exploring Business,
v. 2.1
Pub Date:

August 2014

eISBN:

978-1-4533-6660-8

Pages:

552
What do you want to do?
Product Details:
Available Formats:
Online Access [Required] $29.95
Online Access [Required] + Ebook Downloads $49.95
Online Access [Required] + Black & White Textbook* $54.95
Online Access [Required] + Ebook Downloads + Black & White Textbook* $74.95

* Moving to color textbooks in the spring of 2017 for the same price.
Summary:
Exploring Business, v. 2.1
Karen Collins
---
WHAT'S NEW IN 2.1:
UPDATED CASE STUDIES:

This textbook benefits from updates to the Nike Business Case, which are based on extensive research and executive interviews.

NEW & ENHANCED CHAPTER COVERAGE:

Along with major revamps of the & of social media marketing, sustainability coverage, the value of the Euro, and exploration of the serial entrepreneur.

EMPHASIS ON MOBILE DEVICES:

The focus of the additions to the Managing Information and Technology chapter will be on the explosive growth in mobile devices.

IMPROVED QUIZ MATERIALS & FIGURES

Through redesigned quizzes, this textbook now helps students effectively practice and develop a better understanding of key concepts.

---

In writing Exploring Business, v. 2.1, Karen Collins had simple yet clear aims:


Introduce students to business in an exciting way
Provide faculty with a fully developed teaching package to enable that goal

---

This textbook is suitable for these courses: Introduction to Business

This textbook is suitable for 2 and 4 year institutions.

---

PEDAGOGICAL FEATURES:

INTEGRATED NIKE CASE STUDY:

A Nike case study is available for instructors who wish to introduce students to business using an exciting and integrated case, which is updated each semester. Students learn about Nike through individual case notes, real-world examples, and award-winning videos featuring company executives. In addition, the test item file contains multiple-choice questions keyed to the Nike cases.

PROGRESSIVE (OPTIONAL) BUSINESS PLAN:

Having students develop a business plan in the course introduces students to the excitement and challenges of starting a business and helps them discover how the functional areas of business interact. This textbook package includes an optional integrated business plan project modeled after one refined by the author and her teaching team over the past ten years.

EMPHASIS ON AACSB:

Each chapter presents ten Questions and Problems as well as five cases on areas of skill and knowledge endorsed by AACSB: Learning on the Web, Career Opportunities, The Ethics Angle, Team-Building Skills, and The Global View.

AUTHOR-WRITTEN INSTRUCTION MANUAL:

For the past eleven years, Karen Collins has been developing, coordinating and teaching (to over 3,500 students) an Introduction to Business course. Each semester, she has continuously developed and improved an extensive assortment of clear highly coordinated teaching materials.

CUSTOMIZABILITY:

The Flat World Knowledge publishing model allows instructors to adapt the textbook to the exact needs of their specific class and student body.

See how easy it is to customize a textbook in this 4 minute demo: Flat World Editing Platform Video Demo
Supplements:
This textbook comes with the following materials that you can use in your classroom.
Test Item File
Need assistance in supplementing your quizzes and tests? Our test item files (in Word format) contain many true/false, multiple choice, fill in the blanks, and short essay questions.
Instructor Manual
The Instructor Manual (in Word format) will help guide you through the main concepts of each chapter such as learning objectives, key terms and takeaways. Many also include explanations and answers to chapter exercises.
Powerpoint Lecture Notes
A PowerPoint presentation highlighting key learning objectives and the main concepts for each chapter are available for you to use in your classroom. You can either cut and paste sections or use the presentation as a whole
Other Supplements
Solutions manuals, sample exams, video learning segments, workbooks, cases and lab manuals are just some of the extras our books will offer depending on the needs of the course. Click here to see what this textbook offers.
Testbank for Import to Learning Management System
We have taken our test item file and created files to import into several Learning Management Systems. Click for detailed information and file availability.
Connect:
Who's Using this Textbook?