Faculty:
Read & modify our textbooks
Students:
Start by locating your class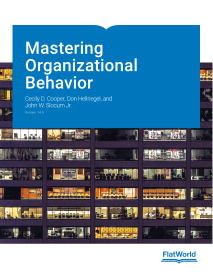 Mastering Organizational Behavior,
v. 14.0
By:

Cecily D. Cooper, Don Hellriegel, and John W. Slocum Jr.
Pub Date:

May 2017

eISBN:

978-1-4533-7950-9

Pages:

554
What do you want to do?
Product Details:
Available Formats:
Online Access [Required] $29.95
Online Access [Required] + Ebook Downloads $49.95
Online Access [Required] + Black & White Textbook* $54.95
Online Access [Required] + Ebook Downloads + Black & White Textbook* $74.95

* Moving to color textbooks in the spring of 2017 for the same price.
Summary:
Mastering Organizational Behavior, v. 14.0
Cecily D. Cooper, Don Hellreigel, and John W. Slocum, Jr.
---
WHAT'S NEW IN 14.0
NEW AUTHORSHIPS:

Professor Cooper has joined Professors Hellriegel and Slocum in adding new content to the text.

UP TO DATE:

Chapters cover all current topics. For example, the chapter on individual differences includes a discussion of proactive personality and the chapter on current leadership trends covers ethical leadership.

NEW CHAPTER:

This edition includes a unique chapter on "Promoting Fairness and Trust" (Chapter 9). This chapter summarizes cutting-edge knowledge on justice, trust, trust repair, and intrateam trust, focusing on the practical implications of managing justice and trust in the workplace. This chapter includes a number of useful measurement tools as well as engaging examples from Verizon, Zappos, and JetBlue to facilitate classroom discussion.

NOTABLE EVENTS:

A number of key and recent events are summarized in new examples in the current edition. These events include the General Motors ignition switch crisis, Volkswagen emissions scandal, Verizon workers' strike, layoffs at Wet Seal, fake accounts at Wells Fargo, Lance Armstrong doping scandal and the turnaround at Hewlett-Packard.

INFLUENTIAL LEADERS:

Many examples describe interesting, controversial, and influential leaders. These leaders include Mary Barra (General Motors), John Legere (T-Mobile), Kathleen Kennedy (Lucasfilm), Ann-Marie Campbell (Home Depot), and Sheryl Sandberg (Facebook).

INTERESTING COMPANIES:

This edition includes a number of new examples describing the practices of companies such as Uber, Cleveland Clinic, Nestle, and The Morning Star Company.

END OF TEXT CASE:

This edition includes a new integrating case at the end of the text called Albert J. "Chainsaw" Dunlap. The Dunlap case is useful for discussing issues related to leadership, power, social influence, motivation, goals, and trust.

VIDEO LINKS:

The online version of each chapter now includes video links that enable students to interact with the text, strengthen comprehension, and bring concepts and examples to life.
---
This textbook is suitable for these courses: Undergraduate or graduate courses in Organizational Behavior or Managing Through People
This textbook is suitable for 2 and 4 year institutions and can be used at the undergraduate, MBA or Executive MBA levels.
PEDAGOGICAL FEATURES:
A COMPETENCY BASED APPROACH TO LEARNING:

Based on research and our own experience, we present seven competencies that we believe all employees and leaders need to master: self, diversity, across cultures, ethics, communication, teams, and change.

LEARNING FROM EXPERIENCE FEATURE:

Each chapter begins with an example that introduces the reader to major themes developed within the chapter.

COMPETENCY FEATURES:

Each chapter contains four competency features, of the seven mentioned above, that illustrate the content of the chapter and engage the student to think about developing their ability to lead effectively.

EXEPERIENTAL EXERCISES AND CASES:

Each chapter has at least one experiential exercise and one case that are relevant to one of the seven competencies.

DISCUSSION QUESTIONS:

Questions appear at the end of each chapter relating to the learning from experience feature, the other competency features, and the chapter concepts. Questions often require the student to get onto the web page of the company featured, creating an opportunity for learning beyond the text.

ASSESSMENT INSTRUMENTS:

Throughout the book, we present more than 30 assessment instruments.

INTEGRATING CASES:

We have included integrating cases at the end of the text. The goal of these cases and their associated questions is to foster critical and analytical thinking.

CUSTOMIZABILITY:

The Flat World Knowledge publishing model allows instructors to adapt the textbook to the exact needs of their specific class and student body.
See how easy it is to customize a textbook in this 4 minute demo: Flat World Editing Platform Video Demo
Supplements:
This textbook comes with the following materials that you can use in your classroom.
Test Item File
Need assistance in supplementing your quizzes and tests? Our test item files (in Word format) contain many true/false, multiple choice, fill in the blanks, and short essay questions.
Instructor Manual
The Instructor Manual (in Word format) will help guide you through the main concepts of each chapter such as learning objectives, key terms and takeaways. Many also include explanations and answers to chapter exercises.
Powerpoint Lecture Notes
A PowerPoint presentation highlighting key learning objectives and the main concepts for each chapter are available for you to use in your classroom. You can either cut and paste sections or use the presentation as a whole
Connect:
Who's Using this Textbook?