Faculty:
Read & modify our textbooks
Students:
Start by locating your class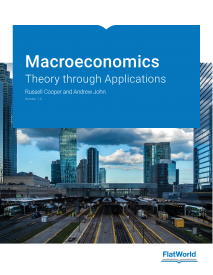 Macroeconomics: Theory through Applications,
v. 1.0
By:

Russell Cooper and Andrew John
Pub Date:

November 2011

eISBN:

978-1-4533-2842-2

Pages:

524
What do you want to do?
Table of Contents:
Show me how easy it is to modify this textbook >
INSTRUCTORS:
Interested in combining chapters from this book with your own or other third party content?
XanEdu can help.
Learn more »
Product Details:
Available Formats:
Online Access [Required] $29.95
Online Access [Required] + Ebook Downloads $49.95
Online Access [Required] + Black & White Textbook* $54.95
Online Access [Required] + Ebook Downloads + Black & White Textbook* $74.95

* Moving to color textbooks in the spring of 2017 for the same price.
Summary:
Russell Cooper and Andrew John have written an economics text aimed directly at students from its very inception. You're thinking, "Yeah, sure. I've heard that before."
This textbook, Macroeconomics: Theory Through Applications, centers around student needs and expectations through two premises: … Students are motivated to study economics if they see that it relates to their own lives. … Students learn best from an inductive approach, in which they are first confronted with a problem, and then led through the process of solving that problem.
Many books claim to present economics in a way that is digestible for students; Russell and Andrew have truly created one from scratch. This textbook will assist you in increasing students' economic literacy both by developing their aptitude for economic thinking and by presenting key insights about economics that every educated individual should know.
How? Russell and Andrew have done three things in this text to accomplish that goal:
1. Applications Ahead of Theory: They present all the theory that is standard in Principles books. But by beginning with applications, students get to learn why this theory is needed.
The authors take the kind of material that other authors put in "applications boxes" and place it at the heart of their book. Each chapter is built around a particular business or policy application, such as social security, globalization, and the wealth and poverty of nations.
Why take this approach? Traditional courses focus too much on abstract theory relative to the interests and capabilities of the average undergraduate. Students are rarely engaged and the formal theory is never integrated into the way students think about economic issues. And traditional books are organized around theoretical constructs that mean nothing to students. The authors' applications-first approach ensures that students will not see chapters with titles like "Cost Functions" or "Short-Run Fluctuations". They introduce tools and ideas as and when they are needed. Each chapter is designed with two goals. First, the application upon which the chapter is built provides a "hook" that gets students' attention. Second, the application is a suitable vehicle a vehicle for teaching the principles of economics.
2. Learning through Repetition: Important tools appear over and over again, allowing students to learn from repetition and to see how one framework can be useful in many different contexts.
Each piece of economic theory in this text is first introduced and explained in the context of a specific application. Most are re-used in other chapters, so students see them in action on multiple occasions. As students progress through the book, they accumulate a set of techniques and ideas. These are collected separately in a "toolkit" that provides students with an easy reference and also gives them a condensed summary of economic principles for examination preparation.
3. A Student's Table of Contents vs. An Instructor's Table of Contents: There is no further proof that Russell and Andrew have created a book aimed specifically at educating students about economics than their two tables of contents.
The Student's Table of Contents speaks to students, piquing their interest to involve them in the economics, and a Instructor's Table of Contents with the economics to better help you organize your teaching—and frankly, you don't need to get excited by economics, you already are.
Check out the Instructor's Table of Contents here to get a sense of how you would teach with Macroeconomics: Theory Through Applications, then click on the Table of Contents tab at the top of this description to see how your students will learn from it.
Instructor Table of Contents: Chpt. 1 Introduction Chpt. 2 Microeconomics in Action Chpt. 3 Macroeconomics in Action Chpt. 3 National Income and Product Accounts Key Tools: National Income Accounting, Gross Domestic Product, Productivity, Real and Nominal Variables, National Income Identity, Employment and Unemployment, Circular Flow of Income Chpt. 4 Supply and Demand in Macroeconomics Key Tools: Supply and Demand, Comparative Statics, Circular Flow of Income, Labor Market, Credit Market, Foreign Exchange Market. Chpt. 5 Growth Accounting and the Aggregate Production Function Key Tools: Growth Accounting, Aggregate Production Function, Human Capital, Technology, Labor and Capital Flows Chpt. 6 Economic Growth Key Tools: Capital Accumulation, Economic Growth, Consumption and Saving, Borrowing and Lending, Convergence, Circular Flow of Income Chpt. 7 Aggregate Spending Key Tools: Growth Accounting, Aggregate Expenditure Model, Multiplier, Coordination Game, Circular Flow of Income Chpt. 8 Unemployment and Labor Markets Key Tools: Labor Supply, Labor Demand, Labor Flows, Search, Unemployment, Comparative Advantage Chpt. 9 Money Demand, Interest Rates and Exchange Rates Key Tools: Money Supply, Money Demand, Exchange Markets, Exchange Rates, Arbitrage, Term Structure of Interest Rates, Fisher Equation Chpt. 10 Monetary Policy Key Tools: Monetary Transmission Mechanism, Discounted Present Value, Monetary Policy Chpt. 11 Inflation Key Tools: Quantity Theory of Money, Velocity of Money, Hyperinflation, Government Budget Constraint, Monetary Policy, Fiscal Policy Chpt. 12 Income Taxes Key Tools: Aggregate Supply and Aggregate Demand, Consumption Function, Saving Function, Circular Flow of Income Chpt. 13 Consumption and Saving Key Tools: Life-cycle Model of Consumption, Capital Formation, Intertemporal Budget Constraint, Government Budget Constraint, Ricardian Equivalence Chpt. 14 Fiscal Policy and Budget Deficits Key Tools: Debt, Deficits, Fiscal Policy, Tax Smoothing, Ricardian equivalence Chpt. 15 The Crisis of 2008
Supplements:
This textbook comes with the following materials that you can use in your classroom.
Test Item File
Need assistance in supplementing your quizzes and tests? Our test item files (in Word format) contain many true/false, multiple choice, fill in the blanks, and short essay questions.
Instructor Manual
The Instructor Manual (in Word format) will help guide you through the main concepts of each chapter such as learning objectives, key terms and takeaways. Many also include explanations and answers to chapter exercises.
Powerpoint Lecture Notes
A PowerPoint presentation highlighting key learning objectives and the main concepts for each chapter are available for you to use in your classroom. You can either cut and paste sections or use the presentation as a whole
Test Generator
Prefer printable tests? Download our test generator and start creating printable tests today! We offer a test generator for both PC and Mac users.
Testbank for Import to Learning Management System
We have taken our test item file and created files to import into several Learning Management Systems. Click for detailed information and file availability.
Connect:
Who's Using this Textbook?