Faculty:
Read & modify our textbooks
Students:
Start by locating your class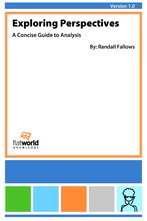 Exploring Perspectives: A Concise Guide to Analysis,
v. 1.0
Pub Date:

July 2011

eISBN:

978-1-4533-2751-7

Pages:

98
What do you want to do?
Table of Contents:
Show me how easy it is to modify this textbook >
INSTRUCTORS:
Interested in combining chapters from this book with your own or other third party content?
XanEdu can help.
Learn more »
Product Details:
Student Formats:
Digital All Access Pass $39

Access to online, offline, and eBook formats: online book with Study Pass, chapter PDFs, and eBook files for tablets, e-readers, and smartphones.

Study Pass $24

Access to the online book only with study tools like note-taking and highlighting; study aids like flashcards; and study view, which collapses each chapter into key terms and key takeaways.

Black & White Print Textbook $59

Bonus access to online and eBooks.

Color Print Textbook $139

Bonus access to online book.
Summary:
The reason why Randall Fallows wrote Exploring Perspectives: A Concise Guide to Analysis is simple: to help give students a better understanding of how to discover, develop, and revise an analytical essay. Here is how his 5 chapter book goes about doing just that:
The first two chapters focus on the nature of an analysis and what's involved in writing an analytical essay.
Randall shows that analysis consists of a balance of assertions (statements which present their viewpoints or launch an exploration of their concerns), examples (specific passages/scenes/events which inspire these views), explanations (statements that reveal how the examples support the assertions), and significance (statements which reveal the importance of their study to personal and/or cultural issues).
After showing why each feature should be present throughout an essay, he reveals how to "set the stage" for producing one of their own.
He first helps students to evaluate their own views on a subject and to examine how these views emerge from their own experiences, values and judgments.
He, then, shows them how to research what others have said about the subject and provides suggestions for evaluating and incorporating this research into their own perspectives.
Finally, Randall discusses the nature of writing, not as a linear procedure, but as a recursive process where the discovery and clarification of a concept occur simultaneously.
The remaining three chapters reveal more specific advice on how to develop an analytical essay.
Exploring Perspectives: A Concise Guide to Analysis by Randall Fallows is a great text to prepare any student to write analytical essays for the argument and persuasion courses. But don't take our word for it; click on "Start Reading Now" or order a desk copy to see for yourself.
Supplements:
This textbook comes with the following materials that you can use in your classroom.
Connect:
Who's Using this Textbook?