Faculty:
Read & modify our textbooks
Students:
Start by locating your class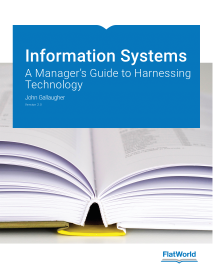 Information Systems: A Manager's Guide to Harnessing Technology,
v. 1.0
Pub Date:

December 2009

eISBN:

978-1-4533-2711-1

Pages:

259
What do you want to do?
Table of Contents:
Show me how easy it is to modify this textbook >
INSTRUCTORS:
Interested in combining chapters from this book with your own or other third party content?
XanEdu can help.
Learn more »
Product Details:
Student Formats:
Digital All Access Pass $39

Access to online, offline, and eBook formats: online book with Study Pass, chapter PDFs, and eBook files for tablets, e-readers, and smartphones.

Study Pass $24

Access to the online book only with study tools like note-taking and highlighting; study aids like flashcards; and study view, which collapses each chapter into key terms and key takeaways.

Black & White Print Textbook $59

Bonus access to online and eBooks.

Color Print Textbook $139

Bonus access to online book.
Summary:
Listen to a podcast of John discussing his textbook.
Information Systems: A Manager's Guide to Harnessing Technology is intended for use in undergraduate and/or graduate courses in Management Information Systems and Information Technology.
One of BusinessWeek's "Professors of the Year", John Gallaugher of Boston College, brings you a brand new Management Information Systems textbook that teaches students how he or she will experience IS from a Managers perspective first hand through interesting coverage and bleeding-edge cases.
Get involved with John's community by visiting and subscribing to his blog, The Week In Geek, where courseware, technology and strategy intersect and joining his Ning IT Community site where you can get more resources to teach Information Systems.
Shockingly, at a time when technology regularly appears on the cover of every major business publication, students find IS among the least appealing of management disciplines.
The teaching approach in Information Systems: A Manager's Guide to Harnessing Technology can change this. The text offers a proven approach that has garnered student praise, increased IS enrollment, and engaged students to think deeper and more practically about the space where business and technology meet. Every topic is related to specific business examples, so students gain an immediate appreciation of its importance. Rather than lead with technical topics, the book starts with strategic thinking, focusing on big-picture issues that have confounded experts but will engage students. And while chapters introduce concepts, cases on approachable, exciting firms across industries further challenge students to apply what they've learned, asking questions like:
Why was NetFlix able to repel Blockbuster and WalMart? How did Harrah's Casino's become twice as profitable as comparably-sized Caesar's, enabling the former to acquire the latter? How does Spain's fashion giant Zara, a firm that shuns the sort of offshore manufacturing used by every other popular clothing chain, offer cheap fashions that fly off the shelves, all while achieving growth rates and profit margins that put Gap to shame? What's an IPO and can a technology alternative push out investment bankers and insiders to the benefit of entrepreneurs and small investors? Why is Google more profitable than Disney? Is Facebook really worth $15 billion?
The Information Systems course and discipline have never seemed more relevant, more interesting, and more exciting. Gallaugher's textbook can help teachers make students understand why.
Supplements:
This textbook comes with the following materials that you can use in your classroom.
Instructor Manual
The Instructor Manual will help guide you through the main concepts of each chapter such as learning objectives, key terms and takeaways. Many also include explanations and answers to chapter exercises.
Test Item File
Need assistance in supplementing your quizzes and tests? Our test item files (in Word format) contain many true/false, multiple choice, fill in the blanks, and short essay questions.
Powerpoint Lecture Notes
A PowerPoint presentation highlighting key learning objectives and the main concepts for each chapter are available for you to use in your classroom. You can either cut and paste sections or use the presentation as a whole
Connect:
Who's Using this Textbook?