Faculty:
Read & modify our textbooks
Students:
Start by locating your class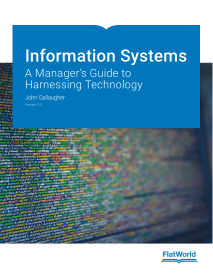 Information Systems: A Manager's Guide to Harnessing Technology,
v. 2.0
Pub Date:

August 2013

eISBN:

978-1-4533-5780-4

Pages:

392
What do you want to do?
Product Details:
Available Formats:
Online Access [Required] $29.95
Online Access [Required] + Ebook Downloads $49.95
Online Access [Required] + Black & White Textbook* $54.95
Online Access [Required] + Ebook Downloads + Black & White Textbook* $74.95

* Moving to color textbooks in the spring of 2017 for the same price.
Summary:
Information Systems: A Manager's Guide to Harnessing Techonology, v. 2.0
John Gallaugher
---
WHAT'S NEW IN 2.0:
UPDATED, MORE RELEVANT CHAPTERS:

New chapter coverage including Amazon.com and Facebook, as well as updated information in the popular Zara and Netflix case studies, breathe fresh life into existing material.

NEW EMPHASIS ON SOCIAL MEDIA:

Instagram, Tumblr, SnapChat, WhatsApp, Pinterest, Reddit, Quora, GitHub, and StackOverflow all receive mention, ensuring relevancy and proper understanding of the current field.

For a comprehensive list of what's new in version 2.0, visit John's blog.

---

John Gallaugher of Boston College was one of BusinessWeek's "Professors of the Year." His widely popular textbook offers a proven approach that has garnered student praise and increased information systems enrollment. There is no other Information Systems author today who keeps his text as "up-to-the-month" current.


For regular updates, follow Gallaugher's blog, The Week in Geek, and connect with him on Twitter at @gallaugher.

---

This textbook is suitable for these courses: Undergraduate or graduate courses in Management Information Systems and Information Technology

This textbook is suitable for 2 and 4 year institutions.

---

PEDAGOGICAL FEATURES:

FOCUS ON STRATEGIC THINKING:

Rather than lead with technical topics, the book starts with strategic thinking, focusing on big-picture issues that have confounded experts but will engage students.

ENGAGING CASE STUDIES:

While chapters introduce concepts, cases on approachable, exciting firms across industries further challenge students to apply what they've learned.
Supplements:
This textbook comes with the following materials that you can use in your classroom.
Test Item File
Need assistance in supplementing your quizzes and tests? Our test item files (in Word format) contain many true/false, multiple choice, fill in the blanks, and short essay questions.
Instructor Manual
The Instructor Manual (in Word format) will help guide you through the main concepts of each chapter such as learning objectives, key terms and takeaways. Many also include explanations and answers to chapter exercises.
Powerpoint Lecture Notes
A PowerPoint presentation highlighting key learning objectives and the main concepts for each chapter are available for you to use in your classroom. You can either cut and paste sections or use the presentation as a whole
Test Generator
Prefer printable tests? Download our test generator and start creating printable tests today! We offer a test generator for both PC and Mac users.
Testbank for Import to Learning Management System
We have taken our test item file and created files to import into several Learning Management Systems. Click for detailed information and file availability.
Connect:
Who's Using this Textbook?