Faculty:
Read & modify our textbooks
Students:
Start by locating your class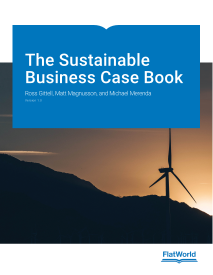 The Sustainable Business Case Book,
v. 1.0
By:

Ross Gittell, Matt Magnusson, and Michael Merenda
Pub Date:

August 2012

eISBN:

978-1-4533-4677-8

Pages:

322
What do you want to do?
Product Details:
Available Formats:
Online Access [Required] $29.95
Online Access [Required] + Ebook Downloads $49.95
Online Access [Required] + Black & White Textbook* $54.95
Online Access [Required] + Ebook Downloads + Black & White Textbook* $74.95

* Moving to color textbooks in the spring of 2017 for the same price.
Summary:
Intended for use as a stand-alone textbook or as a supplement in undergraduate courses that cover sustainable business.

The issue of sustainability is of increasing interest and importance to students of business as well as students in the sciences, government, public policy, planning and other fields. This casebook by Gittell, Magnusson and Merenda is one of the first of its kind in that it combines the theory of sustainability with key concepts, analytical information and contextual information with a collection of cases that provide insights, perspective and practical guidance on how sustainable businesses operate from different business functional area perspectives.

While the book's primary focus is on the relationship between business and sustainability, the book can also be used in courses related to environmental and earth systems sciences, environmental studies, urban planning, economics and public policy.

See how easy it is to customize a textbook in this 4 minute demo: Flat World Editing Platform Video Demo
Supplements:
This textbook comes with the following materials that you can use in your classroom.
Test Item File
Need assistance in supplementing your quizzes and tests? Our test item files (in Word format) contain many true/false, multiple choice, fill in the blanks, and short essay questions.
Instructor Manual
The Instructor Manual (in Word format) will help guide you through the main concepts of each chapter such as learning objectives, key terms and takeaways. Many also include explanations and answers to chapter exercises.
Powerpoint Lecture Notes
A PowerPoint presentation highlighting key learning objectives and the main concepts for each chapter are available for you to use in your classroom. You can either cut and paste sections or use the presentation as a whole
Connect:
Who's Using this Textbook?