Faculty:
Read & modify our textbooks
Students:
Start by locating your class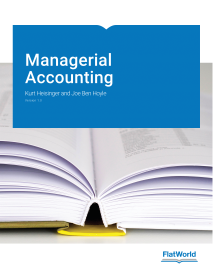 Managerial Accounting,
v. 1.0
By:

Kurt Heisinger and Joe Ben Hoyle
Pub Date:

June 2012

eISBN:

978-1-4533-4529-0

Pages:

658
What do you want to do?
Product Details:
Student Formats:
Digital All Access Pass $39

Access to online, offline, and eBook formats: online book with Study Pass, chapter PDFs, and eBook files for tablets, e-readers, and smartphones.

Study Pass $24

Access to the online book only with study tools like note-taking and highlighting; study aids like flashcards; and study view, which collapses each chapter into key terms and key takeaways.

Black & White Print Textbook $59

Bonus access to online and eBooks.

Color Print Textbook $139

Bonus access to online book.
Summary:
Kurt Heisinger and Joe Ben Hoyle believe that students want to learn accounting in the most efficient way possible, balancing coursework with personal schedules. They tend to focus on their studies in short intense segments between jobs, classes, and family commitments. Meanwhile, the accounting industry has endured dramatic shifts since the collapse of Enron and WorldCom, causing a renewed focus on ethical behavior in accounting. This dynamic author team designed Managerial Accounting to work within the confines of today's students' lives while delivering a modern look at managerial accounting.
Managerial Accounting was written around three major themes: Ready, Reinforcement and Relevance. This book is aimed squarely at the new learning styles evident with today's students and addresses accounting industry changes as well.
Ready. Your students want to be as efficient as possible in their learning. This book adopts a concise, jargon-free, and easy-to-understand approach that is ready with concise sections and concepts when the student is ready to study in a format the student wants. Key concepts are provided in short segments with bullet points and step-by-step instructions to simplify concepts. This thoughtful, step-wise approach will help your students avoid distractions and focuses attention on the big picture.
Reinforcement. Managerial Accounting boasts "Review Problems" at the end of each major section or learning objective which offer practical opportunities for students to apply what they have learned. These "Review Problems" allow students to immediately reinforce what they have learned and are provided within the body of the chapter along with the solutions.
Relevance. Why is managerial accounting important? Since all students perform better when they can answer the "why" question, meaningful references to companies throughout the chapters help students tie the concepts presented in each chapter to real organizations. In addition, realistic managerial scenarios present an issue that must be addressed by the management accountant. These will pique your students' interest and were designed to show how issues can be resolved using the concepts presented in the chapter. Finally, "Business in Action" features in Managerial Accounting link managerial decision-making to real business decisions to help your students complete the learning cycle from concept, to accounting decision, to real-world application.
Managerial Accounting by Heisinger and Hoyle also contains a handful of other pedagogical aids to compliment your lectures and help your students come to class prepared. From a focus on decision-making, to end of chapter materials that can only be characterized as very deep and very wide, to ethics coverage, group projects and spreadsheet applications—these features allow you to teach the course you want to teach and assign the materials you like to assign.
Evaluate the 13 chapter, Managerial Accounting by Heisinger and Hoyle today to see if it fits your course and your students' needs.
Supplements:
This textbook comes with the following materials that you can use in your classroom.
Test Item File
Need assistance in supplementing your quizzes and tests? Our test item files (in Word format) contain many true/false, multiple choice, fill in the blanks, and short essay questions.
Instructor Manual
The Instructor Manual will help guide you through the main concepts of each chapter such as learning objectives, key terms and takeaways. Many also include explanations and answers to chapter exercises.
Powerpoint Lecture Notes
A PowerPoint presentation highlighting key learning objectives and the main concepts for each chapter are available for you to use in your classroom. You can either cut and paste sections or use the presentation as a whole
Other Supplements
Solutions manuals, sample exams, video learning segments, workbooks, cases and lab manuals are just some of the extras our books will offer depending on the needs of the course. Click here to see what this textbook offers.
Solutions Manual
For exercises that need a little more explanation, our Solutions Manual will take you step by step through solving the problem and offer explanations on the answer.
Connect:
Who's Using this Textbook?