Faculty:
Read & modify our textbooks
Students:
Start by locating your class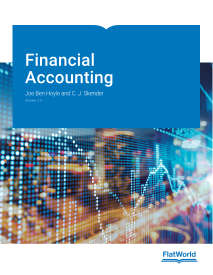 Financial Accounting,
v. 1.0
By:

Joe Ben Hoyle and C. J. Skender
Pub Date:

December 2009

eISBN:

978-1-4533-2712-8

Pages:

457
What do you want to do?
Product Details:
Student Formats:
Digital All Access Pass $39

Access to online, offline, and eBook formats: online book with Study Pass, chapter PDFs, and eBook files for tablets, e-readers, and smartphones.

Study Pass $24

Access to the online book only with study tools like note-taking and highlighting; study aids like flashcards; and study view, which collapses each chapter into key terms and key takeaways.

Black & White Print Textbook $59

Bonus access to online and eBooks.

Color Print Textbook $139

Bonus access to online book.
Summary:
This financial accounting textbook is written for an undergraduate or MBA level Financial Accounting course.
Joe Ben Hoyle and CJ Skender are nationally recognized as outstanding teachers. In fact, BusinessWeek recently recognized both as top undergraduate professors. Their collective teaching wisdom shines in this book as their approach stresses understanding over memorization. This financial accounting textbook covers standard topics in a standard sequence, but does so through asking a carefully constructed series of questions along with their individual answers.
5 Reasons this Textbook Works:
1. Topics are broken down: Each question and its answer look at a specific piece of material. Material is presented as a clearly established series of steps rather than as a long flowing monologue.
2. It's conversational: Virtually all experts agree that individuals learn better through give and take than they do through one-directional lectures.
3. Its logical sequence: Because students are being exposed to each new topic for the first time, they often have trouble making leaps of understanding that appear easy to a teacher (or a textbook author). The question and answer format provides an orderly method for creating an appropriate sequencing of material.
4. Its Q&A approach: "Why did this technique work?" "Why is the calculation performed this way?" "Who really cares about this?" A question and answer format leads to this type of educational presentation.
5. It's clutter-free: Reducing the extraneous boxes and sidebars means students know exactly where to focus. At the end of each question and answer, there are links for students who wish to explore further.
Supplements:
This textbook comes with the following materials that you can use in your classroom.
Test Item File
Need assistance in supplementing your quizzes and tests? Our test item files (in Word format) contain many true/false, multiple choice, fill in the blanks, and short essay questions.
Instructor Manual
The Instructor Manual will help guide you through the main concepts of each chapter such as learning objectives, key terms and takeaways. Many also include explanations and answers to chapter exercises.
Powerpoint Lecture Notes
A PowerPoint presentation highlighting key learning objectives and the main concepts for each chapter are available for you to use in your classroom. You can either cut and paste sections or use the presentation as a whole
Test Generator
Prefer printable tests? Download our test generator powered by Brownstone and start creating printable tests today! We offer a test generator for both PC and Mac users.
Solutions Manual
For exercises that need a little more explanation, our Solutions Manual will take you step by step through solving the problem and offer explanations on the answer.
Testbank for Import to Learning Management System
We have taken our test item file and created files to import into the following Learning Management Systems*: Blackboard, Angel, Moodle, WebCT. We also support a Respondus Neutral file that you can use to easily import our questions in any LMS supported by Respondus. * Please note that only certain versions of each LMS are supported. Click on Supplements for detailed information
Connect:
Who's Using this Textbook?