Faculty:
Read & modify our textbooks
Students:
Start by locating your class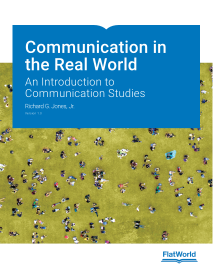 Communication in the Real World: An Introduction to Communication Studies,
v. 1.0
By:

Richard G. Jones, Jr.
Pub Date:

January 2013

eISBN:

978-1-4533-5202-1

Pages:

520
What do you want to do?
Table of Contents:
Show me how easy it is to modify this textbook >
INSTRUCTORS:
Interested in combining chapters from this book with your own or other third party content?
XanEdu can help.
Learn more »
Product Details:
Available Formats:
Online Access [Required] $29.95
Online Access [Required] + Ebook Downloads $49.95
Online Access [Required] + Black & White Textbook* $54.95
Online Access [Required] + Ebook Downloads + Black & White Textbook* $74.95

* Moving to color textbooks in the spring of 2017 for the same price.
Summary:
Communication in the Real World: An Introduction to Communication Studies by Richard G. Jones, Jr. overviews the time-tested conceptual foundations of the field, while incorporating the latest research and cutting-edge applications of these basics. Each chapter will include timely, concrete, and real-life examples of communication concepts in action.
A key feature of this book is the integration of content regarding diversity and organizational communication in each chapter through examples and/or discrete sub-sections. Discussions of diversity are not relegated to feature boxes. Also integrated into the content are examples that are inclusive in terms of race, gender, sexuality, ability, age, marital status, religion, and other diverse identity characteristics.
Communication in the Real World engages students with a conversational tone while still including key theories and concepts that will challenge students to think about communication in new ways. References to current events and hypothetical examples also challenge students to think critically about communication ethics. The content and pedagogical strategies in the book are based in integrative learning, which is a perspective that encourages learners to reflect on how the content they are learning connects to other classes they are taking or have taken, their professional goals, and their civic responsibilities. In keeping with this perspective, the author makes frequent use of concrete and relevant examples that refer to diverse relationships such as family, friends, co-workers, and romantic relationships, and communication contexts such as interpersonal, organizational, academic, mediated, and civic. In addition, each chapter has some key takeaways and exercises that carry a "Getting Integrated" identifier, which directs students and instructors to consider how concepts are integrated into multiple parts of our lives.
Communication in the Real World can be used in "hybrid" courses that cover some combination of communication foundations, interpersonal communication, group communication, and public communication. In addition to these typically covered content areas, the author has included a unit on Mass Media, New Media, and Communication that explores fundamentals of mass communication and emerging technologies. Since many schools are encouraged or mandated to meet objectives related to technology competencies, media literacy, and critical thinking, content such as the connection between new media and democracy, the effect of new media on relationships, and the importance of balancing your social media presence with your professional goals is included. Courses suitable for this book include: Introduction to Communication Studies, Introduction to Speech Communication, and Introduction to Human Communication.
And finally, the author knows that "There's not enough time to do everything!" Flat World Knowledge's customization platform, MIYO (MeeYoh) that stands for Make It Your Own, will allow your own discretion to dictate the content you choose to use in your course.
The following features appear in each chapter of Communication in the Real World: An Introduction to Communication Studies:
"Getting Real" boxes include "real-life" examples of communication concepts in action in relationships, workplaces, or communities. In Chapter 6, this box links to the webpage for the International Association of Image Consultants to illustrate the concept of self-presentation goals.
"Getting Competent" boxes are a skill-building feature. These boxes present real or hypothetical scenarios similar to case studies that will allow students to apply concepts from the chapter. Chapter 6 includes a "Get Competent" box titled, "Handling Roommate Conflicts."
"Getting Plugged In" boxes highlight technology on a variety of fronts including: the Internet, e-mail, text messaging, blogging, social media, and mass media. Chapter 6 includes a "Get Plugged In" box that discusses college students' self-disclosure on social media sites like Facebook.
"Getting Critical" boxes enhance critical thinking and invite student reflection. These boxes draw on examples from current events, politics and popular culture, and may tie in closely with communication ethics. One chapter includes a "Get Critical" box that asks students to consider Rep. Weiner's apology and resignation over inappropriate communication in the context of emotional expression.
Request review materials today to see if this textbook fits the needs of your course and students.
Supplements:
This textbook comes with the following materials that you can use in your classroom.
Test Item File
Need assistance in supplementing your quizzes and tests? Our test item files (in Word format) contain many true/false, multiple choice, fill in the blanks, and short essay questions.
Instructor Manual
The Instructor Manual (in Word format) will help guide you through the main concepts of each chapter such as learning objectives, key terms and takeaways. Many also include explanations and answers to chapter exercises.
Powerpoint Lecture Notes
A PowerPoint presentation highlighting key learning objectives and the main concepts for each chapter are available for you to use in your classroom. You can either cut and paste sections or use the presentation as a whole
Connect:
Who's Using this Textbook?