Faculty:
Read & modify our textbooks
Students:
Start by locating your class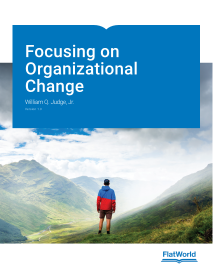 Focusing on Organizational Change,
v. 1.0
By:

William Q. Judge, Jr.
Pub Date:

February 2012

eISBN:

978-1-4533-3288-7

Pages:

160
What do you want to do?
Table of Contents:
Show me how easy it is to modify this textbook >
INSTRUCTORS:
Interested in combining chapters from this book with your own or other third party content?
XanEdu can help.
Learn more »
Product Details:
Available Formats:
Online Access [Required] $29.95
Online Access [Required] + Ebook Downloads $49.95
Online Access [Required] + Black & White Textbook* $54.95
Online Access [Required] + Ebook Downloads + Black & White Textbook* $74.95

* Moving to color textbooks in the spring of 2017 for the same price.
Summary:
Never before have strategic leaders been confronted with so much overwhelming change. The traditional approach is to teach the leader or leaders how to direct or control the organizations' reaction on a monthly, weekly, or even daily basis. This approach is stressful and overwhelming for executive leaders, makes middle managers feel torn between honoring their senior leaders and listening to the demands of front line employees, and is alienating for front line employees.
Focusing on Organizational Change offers an alternative to the traditional approach by focusing on building the change capacity of the entire organization in anticipation of future pressures to change. Based on systematic research of more than 5,000 respondents working within more than 200 organization or organizational units conducted during the previous decade, this book offers a clear and proven method for diagnosing your organizational change capacity. While building organizational change capacity is not fast or easy, it is essential for effective leadership and organizational survival in the 21st century.
Review Focusing on Organizational Change by William Judge today to assess its appropriateness for your management upper level course(s).
Supplements:
This textbook comes with the following materials that you can use in your classroom.
Test Item File
Need assistance in supplementing your quizzes and tests? Our test item files (in Word format) contain many true/false, multiple choice, fill in the blanks, and short essay questions.
Powerpoint Lecture Notes
A PowerPoint presentation highlighting key learning objectives and the main concepts for each chapter are available for you to use in your classroom. You can either cut and paste sections or use the presentation as a whole
Connect:
Who's Using this Textbook?