Faculty:
Read & modify our textbooks
Students:
Start by locating your class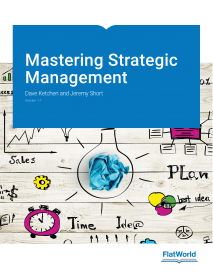 Mastering Strategic Management,
v. 1.1
By:

Dave Ketchen and Jeremy Short
Pub Date:

January 2015

eISBN:

978-1-4533-6951-7

Pages:

322
What do you want to do?
Table of Contents:
Show me how easy it is to modify this textbook >
INSTRUCTORS:
Interested in combining chapters from this book with your own or other third party content?
XanEdu can help.
Learn more »
Product Details:
Available Formats:
Online Access [Required] $29.95
Online Access [Required] + Ebook Downloads $49.95
Online Access [Required] + Black & White Textbook* $54.95
Online Access [Required] + Ebook Downloads + Black & White Textbook* $74.95

* Moving to color textbooks in the spring of 2017 for the same price.
Summary:
Mastering Strategic Management, v. 1.1
Dave Ketchen and Jeremy Short
---
WHAT'S NEW IN 1.1:
MASTERING THE EVIDENCE:

Each chapter now includes one or more "Research Roundups." A brief paragraph is used to summarize the findings of cutting-edge business research and to explain the implications of the findings.

MASTERING ENTREPRENEURIAL STRATEGIES:

Each chapter now includes one or more "Small Business Spotlights." Here we focus on small businesses that have devised unique innovations in order to succeed. This material helps students understand how small firms can make a big impact.

MASTERING THE MOMENT:

Keeping a textbook current is essential. Each chapter in this new edition features updated cases and fresh examples. All material has been thoroughly reviewed by the authors and other leading academics to ensure that students have the most current and relevant knowledge.
---
In writing Mastering Strategic Management, the authors' goals were clear and simple:
Enhance student engagement in strategic management courses.
Create a better teaching experience for professors.
---
This textbook is suitable for these courses: Strategic Management
This textbook is suitable for 2 and 4 year institutions.
---
PEDAGOGICAL FEATURES:
VISUAL ADAPTATIONS OF KEY CONCEPTS:

It is well documented that many of today's students are visual learners. Therefore, this textbook contains multiple graphic concept pages in every section of every chapter of the book. Think of graphic concept pages as almost like infographics for key concepts in each section. This feature sets Mastering Strategic Management apart from any strategic management book on the market today.

REAL WORLD COMPANY EXAMPLES:

Utilizing well-known, currently operating corporations such as Apple helps students harness the conceptual coverage of the chapter in a relatable application for students.

STRATEGY AT THE MOVIES:

This feature, in each chapter, links course concepts with a popular motion picture. In Chapter 1, for example, the authors describe how "The Social Network" illustrates intended, emergent, and realized strategies.

CUSTOMIZABILITY:

The Flat World Knowledge publishing model allows instructors to adapt the textbook to the exact needs of their specific class and student body.

See how easy it is to customize a textbook in this 4 minute demo: Flat World Editing Platform Video Demo
Supplements:
This textbook comes with the following materials that you can use in your classroom.
Test Item File
Need assistance in supplementing your quizzes and tests? Our test item files (in Word format) contain many true/false, multiple choice, fill in the blanks, and short essay questions.
Instructor Manual
The Instructor Manual (in Word format) will help guide you through the main concepts of each chapter such as learning objectives, key terms and takeaways. Many also include explanations and answers to chapter exercises.
Powerpoint Lecture Notes
A PowerPoint presentation highlighting key learning objectives and the main concepts for each chapter are available for you to use in your classroom. You can either cut and paste sections or use the presentation as a whole
Test Generator
Prefer printable tests? Download our test generator and start creating printable tests today! We offer a test generator for both PC and Mac users.
Testbank for Import to Learning Management System
We have taken our test item file and created files to import into several Learning Management Systems. Click for detailed information and file availability.
Connect:
Who's Using this Textbook?