Faculty:
Read & modify our textbooks
Students:
Start by locating your class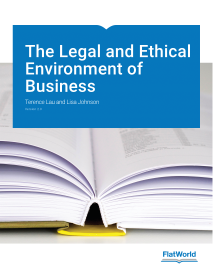 The Legal and Ethical Environment of Business,
v. 1.0
By:

Terence Lau and Lisa Johnson
Pub Date:

January 2011

eISBN:

978-1-4533-2750-0

Pages:

258
What do you want to do?
Table of Contents:
Show me how easy it is to modify this textbook >
INSTRUCTORS:
Interested in combining chapters from this book with your own or other third party content?
XanEdu can help.
Learn more »
Product Details:
Student Formats:
Digital All Access Pass $49

Access to online, offline, and eBook formats: online book with Study Pass, chapter PDFs, and eBook files for tablets, e-readers, and smartphones.

Study Pass $24

Access to the online book only with study tools like note-taking and highlighting; study aids like flashcards; and study view, which collapses each chapter into key terms and key takeaways.

Black & White Print Textbook $89

Bonus access to online and eBooks.

Color Print Textbook $139

Bonus access to online book.
Summary:
Terence Lau & Lisa Johnson's The Legal and Ethical Environment of Business is a book for today's student, who expects learning to be comprised not only of substance, but also of interactive exercises and multimedia. This book streamlines the presentation of material to ensure that every page is relevant, engaging, and interesting to undergraduate business students, without losing the depth of coverage that they need to be successful in their academic journeys and in their professional careers. This is not Legal Environment of Business (LEB) "light." Rather, this is LEB without risk of students' eyes glazing over in boredom or from lack of comprehension. This is LEB presented in an exciting way, where every page is interesting to students and relevant to real life.

The authors recognize that the sheer volume of information to be covered in a LEB course makes it one of the more challenging courses for the business undergraduate. Not only do typical LEB texts read like the first year curriculum at law school, but also the LEB course is grounded in the humanities, which can make the subject even more demanding for students who are also taking statistics, economics, finance, and accounting.

Each chapter contains not only substantive law, but also illustrative videos, interactive exercises for hands-on learning, and discussion questions for critical thought. Additionally, each chapter presents "A Question of Ethics" section, which contains real world ethical dilemmas relevant to the topic under study. These videos, exercises, discussion questions, and ethics sections all provide opportunities for students to apply concepts that they are learning in the context of relevant LEB topics that shape or restrain actual decision-makers' actions. It's real world practice in the safety of the classroom environment.

Lau & Johnson's The Legal and Ethical Environment of Business is a textbook that students will enjoy reading. This will encourage them to come to class prepared, and free you to teach the kind of course you want to teach. Request a desk copy and see for yourself.


Supplements:
This textbook comes with the following materials that you can use in your classroom.
Test Item File
Need assistance in supplementing your quizzes and tests? Our test item files (in Word format) contain many true/false, multiple choice, fill in the blanks, and short essay questions.
Instructor Manual
The Instructor Manual will help guide you through the main concepts of each chapter such as learning objectives, key terms and takeaways. Many also include explanations and answers to chapter exercises.
Powerpoint Lecture Notes
A PowerPoint presentation highlighting key learning objectives and the main concepts for each chapter are available for you to use in your classroom. You can either cut and paste sections or use the presentation as a whole
Test Generator
Prefer printable tests? Download our test generator powered by Brownstone and start creating printable tests today! We offer a test generator for both PC and Mac users.
Testbank for Import to Learning Management System
We have taken our test item file and created files to import into the following Learning Management Systems*: Blackboard, Angel, Moodle, WebCT. We also support a Respondus Neutral file that you can use to easily import our questions in any LMS supported by Respondus. * Please note that only certain versions of each LMS are supported. Click on Supplements for detailed information
Connect:
Who's Using this Textbook?