Faculty:
Read & modify our textbooks
Students:
Start by locating your class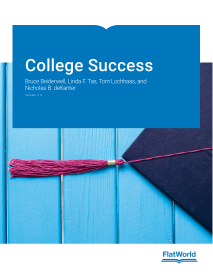 College Success,
v. 2.0
By:

Bruce Beiderwell, Linda F. Tse, Tom Lochhaas, and Nicholas B. deKanter
Pub Date:

September 2015

eISBN:

978-1-4533-7317-0

Pages:

364
What do you want to do?
Table of Contents:
Show me how easy it is to modify this textbook >
INSTRUCTORS:
Interested in combining chapters from this book with your own or other third party content?
XanEdu can help.
Learn more »
Product Details:
Available Formats:
Online Access [Required] $24.95
Online Access [Required] + Ebook Downloads $34.95
Online Access [Required] + Black & White Textbook* $34.95
Online Access [Required] + Ebook Downloads + Black & White Textbook* $44.95

* Moving to color textbooks in the spring of 2017 for the same price.
Summary:
College Success
Bruce Beiderwell, Linda F. Tse, Tom Lochhaas & Nicholas B. deKanter
---
In writing College Success, Bruce Beiderwell, Linda F. Tse, Tom Lochhaas, and Nicholas B. deKanter's goals were simple:

To prepare students prepared for a college education with the study and life skills they need to become successful students
To apply a new approach to college success for students who may struggle with traditional college textbooks
To ensure students are finding value in their learning and continuing their education.

---

This textbook is suitable for these courses: Freshmen Orientation, Study Skills or Student Success courses

This textbook is suitable for 2 and 4-year institutions.

---

PEDAGOGICAL FEATURES:

REALISTIC, PRACTICAL TOOLS:

The focus is on realistic, practical tools for the students who need them. This is a book designed, frankly, for students who may have difficulty with traditional college textbooks.

STRAIGHTFORWARD STYLE:

The style is direct and to the point. Information is presented concisely and as simply as possible. This is not a weighty tome that discusses student success—this is a manual for doing it.

EMPHASIS ON SELF-EVALUATION:

In every chapter, students have the opportunity to explore their personal beliefs and values, make their own goals, and determine what success in college really means for them as individuals. Most important, students always see the value of what they are reading—and how they can begin to apply it immediately in their own lives.

CUSTOMIZABILITY:

The Flat World Knowledge publishing model allows instructors to adapt the textbook to the exact needs of their specific class and student body.

See how easy it is to customize a textbook in this 4 minute demo: Flat World Editing Platform Video Demo
NEW IN THIS SECOND VERSION

College education continues to change and evolve, and the second edition of College Success has evolved similarly. In addition to thoroughly updated content in all chapters, chapters are more concise and revised to be as practical as possible for new college students facing time constraints.

New content has been added in many areas, including: taking online courses, blended or flipped courses; online instructor and student interaction; taking digital exam, computer-scored tests and essays; digital learning tools and apps in all areas: note taking, writing, health and fitness, time management, finances and budgeting, and more; financing of college, risks of student loans, career guidance; and mindfulness and commitment.

In addition to new content, new pedagogy and learning aids have been added throughout, including: class discussion questions for all chapters; embedded and linked videos (e.g., memory tips, time management); increased links for web resources on all topics; file attachments for digital readers to print out exercises involving written responses.
Supplements:
This textbook comes with the following materials that you can use in your classroom.
Test Item File
Need assistance in supplementing your quizzes and tests? Our test item files (in Word format) contain many true/false, multiple choice, fill in the blanks, and short essay questions.
Instructor Manual
The Instructor Manual (in Word format) will help guide you through the main concepts of each chapter such as learning objectives, key terms and takeaways. Many also include explanations and answers to chapter exercises.
Powerpoint Lecture Notes
A PowerPoint presentation highlighting key learning objectives and the main concepts for each chapter are available for you to use in your classroom. You can either cut and paste sections or use the presentation as a whole
Testbank for Import to Learning Management System
We have taken our test item file and created files to import into several Learning Management Systems. Click for detailed information and file availability.
Connect:
Who's Using this Textbook?