Faculty:
Read & modify our textbooks
Students:
Start by locating your class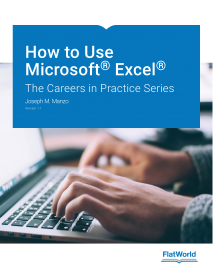 How to Use Microsoft® Excel®: The Careers in Practice Series,
v. 1.1
Pub Date:

August 2012

eISBN:

978-1-4533-4877-2

Pages:

316
What do you want to do?
Table of Contents:
Show me how easy it is to modify this textbook >
INSTRUCTORS:
Interested in combining chapters from this book with your own or other third party content?
XanEdu can help.
Learn more »
Product Details:
Available Formats:
Online Access [Required] $29.95
Online Access [Required] + Ebook Downloads $49.95
Online Access [Required] + Black & White Textbook* $54.95
Online Access [Required] + Ebook Downloads + Black & White Textbook* $74.95

* Moving to color textbooks in the spring of 2017 for the same price.
Summary:
How to Use Microsoft® Office Excel® The Careers in Practice Series V. 1.1 is an textbook appropriate for a course covering Microsoft Excel at a beginner to intermediate level. It is geared toward and will be accommodating for students and instructors with little to no experience in using Microsoft Excel. However, the approach is not at the expense of relevance.
How to Use Microsoft® Excel® The Careers in Practice Series approaches Excel from the perspective of making personal and professional quantitative decisions. Personal decisions include big purchases such as homes and automobiles, savings for retirement, and personal budgets. Professional decisions include budgets for managing expenses, merchandise items to markdown or discontinue, and inventory management.
Students are given clear, easy to follow instructions for each skill presented. They are also provided with opportunities to learn additional skills related to the personal or professional objectives presented. For example, students will learn the key terms with respect to home mortgages and understand the impact interest rates have on monthly mortgage payments.
This text also places an emphasis on "what if" scenarios so students gain an appreciation for the computational power of Excel.
Each chapter in
How to Use Microsoft® Excel® The Careers in Practice Series
has a theme for a specific career or field. An example, or objective, is developed within the theme for each chapter. The objectives are designed to answer key questions or provide insights for decisions that were presented in the theme. Students are instructed to open a follow along file at the beginning of each section and will learn how multiple skills are used together to accomplish an objective.
To help students retain what they learn in your course, and refresh their memory about what they don't, lesson videos are provided to walk the student through each skill in the chapter. The lesson videos are broken down by skill so students can target their viewing to material where they need additional help.
Within each objective, students learn to execute specific skills. Breaking the objectives down by skills allows students to focus on each skill and instructors to identify where students are having difficulty. This also makes it possible for students and instructors to go back and research specific skills they need to review or reference at a future point in time.
Refresher boxes are available to students after each objective and contain an abbreviated list of steps presented for each skill.
Additionally, each refresher box will have a link to a short demonstration video (this is in addition to the lesson videos), providing students with the option to see a quick demonstration of a skill.
The following describes some key features of this text: Step-by-Step Approach:
Students learn each skill in contained step-by-step modules. These modules are set in the context of either a personal or professional objective. The objective is explained first, and then students are given step-by-step instructions to complete a sample file for the application they are learning.
Custom Screen Graphics:
Detailed annotated pictures show students exactly what they need to do to execute the steps for each skill.
Video Lessons:
All skills presented in the material are demonstrated by the author on professionally-produced videos using chromo key technology (green screen).
Refreshers:
Each skill covered in the material is presented in a "Refresher Box" which contains a list of abbreviated steps. Coordinated with each "Refresher Box" is a "Refresher Video". These videos are demonstrations of each skill lasting 60 seconds.
"Why" Tip Boxes:
Included in the delivery of skills are tip boxes that explain why it is important for students to master specific skills or execute skills in a certain way.
Integrity Check: Tip boxes show students how the integrity of certain skills or objectives can be compromised. For example, forgetting the negative sign in the PMT argument of the Future Value will produce a negative value.
Mouseless Commands:
Tip boxes that show students how to execute skills without a mouse. This feature includes key board short cuts that utilize control keys or key tip commands on the Ribbon. This feature is presented for most skills presented in the text
Assessment:
The product will offer four levels of assessment for instructors. For each assessment level, students will be provided with clear instructions explaining what is required to successfully complete the assignment.
The four assessment levels are as follows:
LEVEL 1 Skills Review: These are exercises that allow students to practice the skills they learned for a variety of different applications. These exercises provide the same step-by-step instructions that are used when a skill is first learned. LEVEL 2 Skill Competency Exams: This is an exam that requires the student to recognize the skill and execute it without the detailed step-by-step instructions. LEVEL 3 Integrity Analysis: These exercises require students to analyze work that has already been completed, identify problems or errors, and make the necessary corrections. LEVEL 4 Skill Application Exams and Projects: These exercises pose a specific objective to the student. The student must accomplish the objective by deciding which skills are applicable to complete the assignment.
The practical focus of How to Use Microsoft® Excel® The Careers in Practice Series along with the supporting videos, features, and economical choices for your students makes this book destined to be a favorite among students (and teachers) everywhere. Request review materials for this text today.
Supplements:
This textbook comes with the following materials that you can use in your classroom.
Test Item File
Need assistance in supplementing your quizzes and tests? Our test item files (in Word format) contain many true/false, multiple choice, fill in the blanks, and short essay questions.
Instructor Manual
The Instructor Manual (in Word format) will help guide you through the main concepts of each chapter such as learning objectives, key terms and takeaways. Many also include explanations and answers to chapter exercises.
Powerpoint Lecture Notes
A PowerPoint presentation highlighting key learning objectives and the main concepts for each chapter are available for you to use in your classroom. You can either cut and paste sections or use the presentation as a whole
Test Generator
Prefer printable tests? Download our test generator and start creating printable tests today! We offer a test generator for both PC and Mac users.
Solutions Manual
For exercises that need a little more explanation, our Solutions Manual will take you step by step through solving the problem and offer explanations on the answer.
Testbank for Import to Learning Management System
We have taken our test item file and created files to import into several Learning Management Systems. Click for detailed information and file availability.
Connect:
Who's Using this Textbook?