Faculty:
Read & modify our textbooks
Students:
Start by locating your class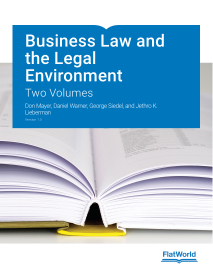 Business Law and the Legal Environment,
v. 1.0 (2 Volume Set)
By:

Don Mayer, Daniel Warner, George Siedel and Jethro K. Lieberman
Pub Date:

November 2011

eISBN:

978-1-4533-3050-0

Pages:

1210
What do you want to do?
Product Details:
Student Formats:
Digital All Access Pass $79

Access to online, offline, and eBook formats: online book with Study Pass, chapter PDFs, and eBook files for tablets, e-readers, and smartphones.

Study Pass $48

Access to the online book only with study tools like note-taking and highlighting; study aids like flashcards; and study view, which collapses each chapter into key terms and key takeaways.

Black & White Print Textbook $139

Bonus access to online and eBooks.
Summary:
Business Law and the Legal Environment
Don Mayer, Daniel Warner, George Siedel, and Jethro K. Lieberman
---
In writing Business Law and the Legal Environment, all four authors joined together with simple and clear goals:
To provide students with context and essential concepts across the entire range of legal issues with which managers and business executives must grapple
To supply students with the vocabulary and legal acumen necessary for business people to speak in an educated way with customers, employees, suppliers, government officials — and to their own lawyers
To encourage students to see national borders as bridges, not barriers
To provide students with progressive and comprehensive coverage of the principles of international business.




NOTE: Due to the page count of this textbook, we will ship copies of the textbook in a two-volume set.

---

This textbook is suitable for these courses: Business Law, Legal Studies

This textbook is suitable for 2 and 4 year institutions.

---

PEDAGOGICAL FEATURES:

This text is organized in a straightforward and logical manner, developing information throughout five different sections.

CUSTOMIZABILITY:

The text selection process for business law can be confusing because of the huge array of publications and the lack of flexibility in tailoring textbooks to your course. Business Law and the Legal Environment, not only has both case summaries and excerpted cases, but the option to easily customize it by deleting chapters, reordering content, adding your own material, or even editing at the line level.

INTERACTIVE FEATURES:

The online version of Business Law and the Legal Environment boasts embedded links to law-related videos at YouTube and other online sites for easy access by students and instructors.

CUSTOMIZABILITY:

The Flat World Knowledge publishing model allows instructors to adapt the textbook to the exact needs of their specific class and student body.

See how easy it is to customize a textbook in this 4 minute demo: Flat World Editing Platform Video Demo
Supplements:
This textbook comes with the following materials that you can use in your classroom.
Test Item File
Need assistance in supplementing your quizzes and tests? Our test item files (in Word format) contain many true/false, multiple choice, fill in the blanks, and short essay questions.
Instructor Manual
The Instructor Manual will help guide you through the main concepts of each chapter such as learning objectives, key terms and takeaways. Many also include explanations and answers to chapter exercises.
Powerpoint Lecture Notes
A PowerPoint presentation highlighting key learning objectives and the main concepts for each chapter are available for you to use in your classroom. You can either cut and paste sections or use the presentation as a whole
Test Generator
Prefer printable tests? Download our test generator powered by Brownstone and start creating printable tests today! We offer a test generator for both PC and Mac users.
Testbank for Import to Learning Management System
We have taken our test item file and created files to import into the following Learning Management Systems*: Blackboard, Angel, Moodle, WebCT. We also support a Respondus Neutral file that you can use to easily import our questions in any LMS supported by Respondus. * Please note that only certain versions of each LMS are supported. Click on Supplements for detailed information
Connect:
Who's Using this Textbook?