Faculty:
Read & modify our textbooks
Students:
Start by locating your class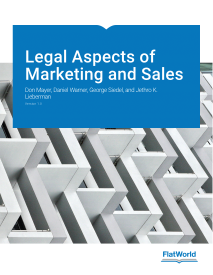 Legal Aspects of Marketing and Sales,
v. 1.0
By:

Don Mayer, Daniel Warner, George Siedel and Jethro K. Lieberman
Pub Date:

March 2012

eISBN:

978-1-4533-4328-9

Pages:

571
What do you want to do?
Product Details:
Student Formats:
Digital All Access Pass $39

Access to online, offline, and eBook formats: online book with Study Pass, chapter PDFs, and eBook files for tablets, e-readers, and smartphones.

Study Pass $24

Access to the online book only with study tools like note-taking and highlighting; study aids like flashcards; and study view, which collapses each chapter into key terms and key takeaways.

Black & White Print Textbook $59

Bonus access to online and eBooks.

Color Print Textbook $139

Bonus access to online book.
Summary:
Mayer, Warner, Siedel and Lieberman's Legal Aspects of Marketing and Sales is an up-to-date textbook that covers legal issues that students who will work in marketing or with marketing managers must understand. The text is organized to permit instructors to tailor the materials to their particular approach. The authors take special care to engage students by relating law to everyday events with their clear, concise and readable style.
After introductory chapters covering the legal environment of business, Legal Aspects of Marketing and Sales provides students with context and essential legal concepts relating to contracts, sales, intellectual property, antitrust law and unfair trade practices. The text provides the vocabulary and legal savvy they will need to talk in an educated way to customers, suppliers, shareholders, government regulators and other stakeholders — and to their own lawyers.
With Legal Aspects of Marketing and Sales the authors have created a text that not only has both case summaries and excerpted cases, but one that you can easily customize by deleting chapters, reordering the content, adding your own material, and even editing at the line level with Flat World's easy-to-use MIYO (Make It Your Own) Platform. The online version of the text includes embedded links to law-related videos at YouTube and other online sites for easy access by students and instructors.
Review Mayer, Warner, Siedel and Lieberman's Legal Aspects of Marketing and Sales today to see if its comprehensive content, affordable price, and flexible format are right for your students and your course.
Supplements:
This textbook comes with the following materials that you can use in your classroom.
Instructor Manual
The Instructor Manual will help guide you through the main concepts of each chapter such as learning objectives, key terms and takeaways. Many also include explanations and answers to chapter exercises.
Powerpoint Lecture Notes
A PowerPoint presentation highlighting key learning objectives and the main concepts for each chapter are available for you to use in your classroom. You can either cut and paste sections or use the presentation as a whole
Test Item File
Need assistance in supplementing your quizzes and tests? Our test item files (in Word format) contain many true/false, multiple choice, fill in the blanks, and short essay questions.
Connect:
Who's Using this Textbook?