Faculty:
Read & modify our textbooks
Students:
Start by locating your class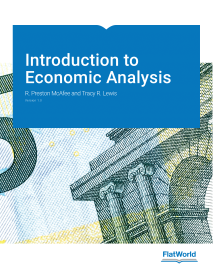 Introduction to Economic Analysis,
v. 1.0
By:

R. Preston McAfee and Tracy R. Lewis
Pub Date:

February 2009

eISBN:

978-1-4533-2690-9

Pages:

289
What do you want to do?
Table of Contents:
Show me how easy it is to modify this textbook >
INSTRUCTORS:
Interested in combining chapters from this book with your own or other third party content?
XanEdu can help.
Learn more »
Product Details:
Available Formats:
Online Access [Required] $29.95
Online Access [Required] + Ebook Downloads $49.95
Online Access [Required] + Black & White Textbook* $54.95
Online Access [Required] + Ebook Downloads + Black & White Textbook* $74.95

* Moving to color textbooks in the spring of 2017 for the same price.
Summary:
Listen to a podcast here of Preston discussing his textbook and the Intermediate Microeconomics course to gain perspective on this text.
This book presents standard intermediate microeconomics material and some material that, in the authors' view, ought to be standard but is not. Introductory economics material is integrated. Standard mathematical tools, including calculus, are used throughout. The book easily serves as an intermediate microeconomics text, and can be used for a relatively sophisticated undergraduate who has not taken a basic university course in economics.
The focus of this book is on the conceptual tools and not on fluff. As such, it reflects the approach actually adopted by the majority of economists for understanding economic activity. There are lots of models and equations, and no pictures of economists ;-)
Economic analysis is used in many situations. When British Petroleum sets the price for Alaskan crude oil, it uses an estimated demand model, both for gasoline consumers and also for the refineries to which BP sells. Economic analysis was used by experts in the antitrust suit brought by the U.S. Department of Justice both to understand Microsoft's incentive to foreclose (eliminate from the market) rival Netscape and consumer behavior in the face of alleged foreclosure. Stock market analysts use economic models to forecast the profits of companies to predict the price of their stocks. When the government forecasts the budget deficit or considers a change in environmental regulations, it uses economic models. This book presents the building blocks of the models in common use by an army of economists thousands of times per day.
This book, plus econometrics, provides most of the economic analysis tools to take upper division economics courses of any type.
Supplements:
This textbook comes with the following materials that you can use in your classroom.
Test Item File
Need assistance in supplementing your quizzes and tests? Our test item files (in Word format) contain many true/false, multiple choice, fill in the blanks, and short essay questions.
Instructor Manual
The Instructor Manual (in Word format) will help guide you through the main concepts of each chapter such as learning objectives, key terms and takeaways. Many also include explanations and answers to chapter exercises.
Powerpoint Lecture Notes
A PowerPoint presentation highlighting key learning objectives and the main concepts for each chapter are available for you to use in your classroom. You can either cut and paste sections or use the presentation as a whole
Connect:
Who's Using this Textbook?