Faculty:
Read & modify our textbooks
Students:
Start by locating your class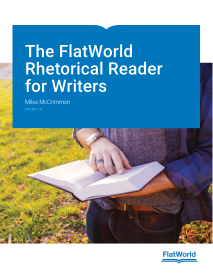 The Flat World Knowledge Rhetorical Reader for Writers,
v. 1.0
Pub Date:

February 2014

eISBN:

978-1-4533-5951-8

Pages:

442
What do you want to do?
Table of Contents:
Show me how easy it is to modify this textbook >
INSTRUCTORS:
Interested in combining chapters from this book with your own or other third party content?
XanEdu can help.
Learn more »
Product Details:
Available Formats:
Online Access [Required] $29.95
Online Access [Required] + Ebook Downloads $49.95
Online Access [Required] + Black & White Textbook* $54.95
Online Access [Required] + Ebook Downloads + Black & White Textbook* $74.95

* Moving to color textbooks in the spring of 2017 for the same price.
Summary:
This textbook is a fully curated collection featuring the apparatus of a traditional reader (introductory headnotes, questions before and after readings, assignment sequences, thematically and rhetorically arranged chapters). By drawing most of its content from OERs and textbooks in the public domain, this is the first reader than can be truly personalized to perfectly fit any instructor's syllabus.

Miles McCrimmon knows that many writing teachers and some entire departments no longer want to use the traditional $90 readers, but going DIY can be a very labor-intensive and daunting process. The FWK Reader for Writers can help you arrange and curate what can otherwise be a bewildering and overwhelming assortment of options. Like a good museum installation, Miles refrains from making the claim that this reader's exhibition is exhaustive; instead, he claims it will inspire and guide readers to seek out additional examples on their own.

The standard, "off-the-shelf" version of this textbook is arranged rhetorically into six chapters based on the six types of discourse laid out in the CCCC Statement on Multiple Uses for Writing: academic, workplace, civic, cross-cultural, personal, and aesthetic discourse. A thematically arranged version of this book, with the same readings, is also available and is arranged into the following six broad themes: education, work, politics, commerce, identity, and technology – with a separate set of thematic writing assignments.
Using Flat World Knowledge's online Book Editor platform, faculty can easily create hybrids of rhetorical and thematic approaches to the readings. Regardless of the arrangement you choose, the rhetorical or the thematic, the guiding principle is to expose students to six different kinds of discourse at the same time that they are exposed to six thematic fields of interest.

Supplements:
This textbook comes with the following materials that you can use in your classroom.
Connect:
Who's Using this Textbook?