Faculty:
Read & modify our textbooks
Students:
Start by locating your class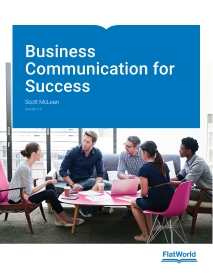 Business Communication for Success,
v. 2.0
Pub Date:

January 2016

eISBN:

978-1-4533-7419-1

Pages:

578
What do you want to do?
Product Details:
Available Formats:
Online Access [Required] $29.95
Online Access [Required] + Ebook Downloads $49.95
Online Access [Required] + Black & White Textbook* $54.95
Online Access [Required] + Ebook Downloads + Black & White Textbook* $74.95

* Moving to color textbooks in the spring of 2017 for the same price.
Summary:
Business Communication for Success, v. 2.0
Scott McLean
---
New for our 2.0 edition includes additional exercises, images, and videos throughout the text to reinforce learning, connections to the latest research, and new sections on mobile communication, family business communication, and intercultural communication.
Scott McLean's goals in writing Business Communication for Success were simple:
To provide the range of coverage combined with real-world examples
To offer ample opportunities to engage with the concepts, vocabulary and models
---
Business Communication for Success benefits from Scott's extensive understanding of how students learn the art of effective communication. You can listen to a podcast here of Scott discussing his textbook and teaching the Business Communication course.
---
Students are provided ample opportunity to engage with the concepts, vocabulary and models covered in the text through:
role-playing exercises
journal writings
case studies
small-group activities
games
self-assessment activities
---
This textbook is suitable for the following courses: Business Communication, Business English, Business Presentation, Professional Communication
This textbook is suitable for 2 and 4 year level courses.
---
PEDAGOGICAL FEATURES
FOUR-PART ORGANIZATION:
Clear organization makes the book modular and easy to read while building on earlier lessons.
Chapters 1-3: Introduction to the principles of business communication
Chapters 4-9: Process and skills of writing for business
Chapters 10-15: Process and skills of developing and delivering business presentations
Chapters 16-19: Common contexts of business communication, including intrapersonal and interpersonal communication; negative news and crisis communication; intercultural and international communication; and groups, teams, and leadership
Additionally, The Flat World Knowledge publishing model allows instructors to adapt the textbook to the exact needs of their specific class and student body.
See how easy it is to customize a textbook in this 4 minute demo:
Flat World Editing Platform Video Demo
Supplements:
This textbook comes with the following materials that you can use in your classroom.
Test Item File
Need assistance in supplementing your quizzes and tests? Our test item files (in Word format) contain many true/false, multiple choice, fill in the blanks, and short essay questions.
Instructor Manual
The Instructor Manual (in Word format) will help guide you through the main concepts of each chapter such as learning objectives, key terms and takeaways. Many also include explanations and answers to chapter exercises.
Powerpoint Lecture Notes
A PowerPoint presentation highlighting key learning objectives and the main concepts for each chapter are available for you to use in your classroom. You can either cut and paste sections or use the presentation as a whole
Other Supplements
Solutions manuals, sample exams, video learning segments, workbooks, cases and lab manuals are just some of the extras our books will offer depending on the needs of the course. Click here to see what this textbook offers.
Testbank for Import to Learning Management System
We have taken our test item file and created files to import into several Learning Management Systems. Click for detailed information and file availability.
Connect:
Who's Using this Textbook?