Faculty:
Read & modify our textbooks
Students:
Start by locating your class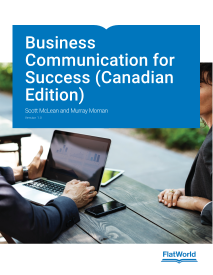 Business Communication for Success (Canadian Edition),
v. 1.0
By:

Scott McLean and Murray Moman
Pub Date:

August 2012

eISBN:

978-1-4533-4747-8

Pages:

438
What do you want to do?
Product Details:
Available Formats:
Online Access [Required] $29.95
Online Access [Required] + Ebook Downloads $49.95
Online Access [Required] + Black & White Textbook* $54.95
Online Access [Required] + Ebook Downloads + Black & White Textbook* $74.95

* Moving to color textbooks in the spring of 2017 for the same price.
Summary:
Listen to a podcast here of Scott discussing his textbook and teaching the Business Communication course.
This book is suited for Business Communication courses taught in Canada, but is also appropriate for Business English, Business Presentation, Professional Communication courses. The Canadian version was adapted by Murray Moman to include proper spelling and grammar for the Northern Territories. In addition, the examples are taken from Canadian companies and situations so students in Canada can truly relate to the textbook content.
Scott McLean has authored textbooks in the areas of Speech Communication, Interpersonal Communication and Public Speaking. Business Communications for Success benefits from Scott's extensive understanding of how students learn the art of effective communication.
Students are provided ample opportunity to engage with the concepts, vocabulary and models covered in the text, including role-playing exercises, journal writings, case studies, small-group activities, games, and self-assessment activities.
Business Communication for Success
also employs the Flat World Knowledge business model to create a fully modular text that can be customized to support a variety of courses in Business English, Business Presentation, Professional Communication, and related areas. The text is organized into four parts (which can be easily customized by you to suit your course needs): Chapters 1-3 focuses on a solid introduction to the principles of communication as applied to business. Chapters 4-8 cover the process and skills of writing for business and are capped by Chapter 9, a set of examples of business documents. Chapters 10-14 cover the process and skills of developing and delivering business presentations and are capped by Chapter 15, a set of applications for business presentation. The final chapters in the book address many of the common contexts of business communication, including intrapersonal and interpersonal communication; negative news and crisis communication; intercultural and international communication; and groups, teams, and leadership. Scott McLean's
Business Communication for Success
provides the range of coverage combined with real-world examples to meet course and student needs. With clear learning objectives, in-chapter and section exercises, and assessment outcomes, this text is suitable for traditional, hybrid, and online teaching environments.
Supplements:
This textbook comes with the following materials that you can use in your classroom.
Test Item File
Need assistance in supplementing your quizzes and tests? Our test item files (in Word format) contain many true/false, multiple choice, fill in the blanks, and short essay questions.
Instructor Manual
The Instructor Manual (in Word format) will help guide you through the main concepts of each chapter such as learning objectives, key terms and takeaways. Many also include explanations and answers to chapter exercises.
Powerpoint Lecture Notes
A PowerPoint presentation highlighting key learning objectives and the main concepts for each chapter are available for you to use in your classroom. You can either cut and paste sections or use the presentation as a whole
Test Generator
Prefer printable tests? Download our test generator and start creating printable tests today! We offer a test generator for both PC and Mac users.
Testbank for Import to Learning Management System
We have taken our test item file and created files to import into several Learning Management Systems. Click for detailed information and file availability.
Connect:
Who's Using this Textbook?