Faculty:
Read & modify our textbooks
Students:
Start by locating your class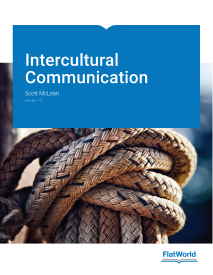 Intercultural Communication,
v. 1.0
Pub Date:

February 2015

eISBN:

978-1-4533-6984-5

Pages:

236
What do you want to do?
Table of Contents:
Show me how easy it is to modify this textbook >
INSTRUCTORS:
Interested in combining chapters from this book with your own or other third party content?
XanEdu can help.
Learn more »
Product Details:
Available Formats:
Online Access [Required] $29.95
Online Access [Required] + Ebook Downloads $49.95
Online Access [Required] + Black & White Textbook* $54.95
Online Access [Required] + Ebook Downloads + Black & White Textbook* $74.95

* Moving to color textbooks in the spring of 2017 for the same price.
Summary:
Intercultural Communication provides a comprehensive, integrated approach to the fascinating study and application of intercultural communication to serve both student and professor. We interact with each other across cultures daily, from customers and clients, to friends and family, to colleagues and team members. How we interact impacts our relationships and our career.
From a practical standpoint, we examine communication, cultures, and their interactions in real-world contexts. Together we can recognize how comprehensive and complex intercultural communication can be and look for strategies as well as solutions. Intercultural communication can be challenging, even frustrating, but it can also be quite rewarding. Your course and instructor, as well as this text, are here to help prepare you to be an effective communicator across cultures.
This text features chapters with learning objectives, exercises, key terms, and real world examples. The material is often presented with integrated video and visual images. Each chapter is self-contained, allowing for mix-and-match flexibility and custom or course-specific design. Each chapter focuses on clear objectives and skill demonstrations that can be easily linked to your syllabus and state or federal requirements. Supported by internal and external assessments, each chapter features timesaving and learning-enhancement support for instructors and students. IC is designed to help you identify important information, reinforce for retention, and demonstrate mastery.
Supplements:
This textbook comes with the following materials that you can use in your classroom.
Instructor Manual
The Instructor Manual (in Word format) will help guide you through the main concepts of each chapter such as learning objectives, key terms and takeaways. Many also include explanations and answers to chapter exercises.
Powerpoint Lecture Notes
A PowerPoint presentation highlighting key learning objectives and the main concepts for each chapter are available for you to use in your classroom. You can either cut and paste sections or use the presentation as a whole
Other Supplements
Solutions manuals, sample exams, video learning segments, workbooks, cases and lab manuals are just some of the extras our books will offer depending on the needs of the course. Click here to see what this textbook offers.
Connect:
Who's Using this Textbook?