Faculty:
Read & modify our textbooks
Students:
Start by locating your class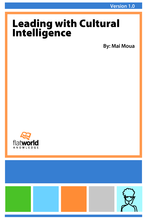 Leading with Cultural Intelligence,
v. 1.0
Pub Date:

February 2012

eISBN:

978-1-4533-3289-4

Pages:

170
What do you want to do?
Table of Contents:
Show me how easy it is to modify this textbook >
INSTRUCTORS:
Interested in combining chapters from this book with your own or other third party content?
XanEdu can help.
Learn more »
Product Details:
Student Formats:
Digital All Access Pass $39

Access to online, offline, and eBook formats: online book with Study Pass, chapter PDFs, and eBook files for tablets, e-readers, and smartphones.

Study Pass $24

Access to the online book only with study tools like note-taking and highlighting; study aids like flashcards; and study view, which collapses each chapter into key terms and key takeaways.

Black & White Print Textbook $59

Bonus access to online and eBooks.
Summary:
Organizations in the 21st century are in need of culturally intelligent managers and leaders. The pressure to build authentic global networks and to cultivate an appreciation and respect for cultural differences and similarities has driven cultural intelligence to the forefront of diversity and inclusion work.
Preparing today's students to be effective leaders in their professional lives requires that they hone their cultural intelligence as it is vital to working inter- and intra-culturally in today's global economy. This unique ability to identify, recognize, and acknowledge the differences and similarities that exist between and among cultural groups and systems will set their leadership skills apart from the masses. And when applied, cultural intelligence can bridge the gap in cultural misunderstanding by creating awareness, knowledge, and patience of cultural norms and behaviors.
The purpose of Leading With Cultural Intelligence by Mia Moua is to outline the important ideas of cultural intelligence and the steps that must be considered and then practiced to become a culturally intelligent leader. The most important aspect covered within this book is that cultural intelligence is both a strategy and a tool towards cultural competency and proficiency. This book outlines the importance of understanding culture and its impact on organizations, the strategic value of cultural intelligence, and the significance of integrating and practicing cultural intelligence in everyday business life. When all these aspects are properly integrated and applied in the leadership and management process, organizations are more innovative and adaptable to respond to cultural changes.
Review Leading With Cultural Intelligence today to see if it fits as a supplement or core text for a management course in your curriculum.
Supplements:
This textbook comes with the following materials that you can use in your classroom.
Instructor Manual
The Instructor Manual will help guide you through the main concepts of each chapter such as learning objectives, key terms and takeaways. Many also include explanations and answers to chapter exercises.
Powerpoint Lecture Notes
A PowerPoint presentation highlighting key learning objectives and the main concepts for each chapter are available for you to use in your classroom. You can either cut and paste sections or use the presentation as a whole
Test Item File
Need assistance in supplementing your quizzes and tests? Our test item files (in Word format) contain many true/false, multiple choice, fill in the blanks, and short essay questions.
Connect:
Who's Using this Textbook?