Faculty:
Read & modify our textbooks
Students:
Start by locating your class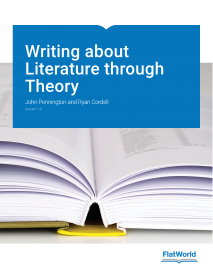 Writing about Literature through Theory,
v. 1.0
By:

John Pennington and Ryan Cordell
Pub Date:

February 2013

eISBN:

978-1-4533-5380-6

Pages:

274
What do you want to do?
Table of Contents:
Show me how easy it is to modify this textbook >
INSTRUCTORS:
Interested in combining chapters from this book with your own or other third party content?
XanEdu can help.
Learn more »
Product Details:
Student Formats:
Digital All Access Pass $39

Access to online, offline, and eBook formats: online book with Study Pass, chapter PDFs, and eBook files for tablets, e-readers, and smartphones.

Study Pass $24

Access to the online book only with study tools like note-taking and highlighting; study aids like flashcards; and study view, which collapses each chapter into key terms and key takeaways.

Black & White Print Textbook $59

Bonus access to online and eBooks.

Color Print Textbook $139

Bonus access to online book.
Summary:
Writing about Literature through Theory by Pennington and Cordell is the first introduction to literature text to embrace both the best of print culture and the opportunities of the digital age, while being grounded in the rhetoric and composition field pertaining to the developmental writing process. It is also unique because it uses literary theory as the foundation for students' development as critical thinkers and writers. Following Gerald Graff's ideas in "Disliking Books at an Early Age,"
Writing about Literature through Theory uses theoretical approaches to open literary texts up to students across the disciplines.
Writing about Literature through Theory focuses on writing as a process, and each chapter includes the following:
Introductory material that defines theoretical schools of thought.
Each chapter is designed for students in introductory literature classes and describes these schools broadly, as areas of intellectual interest for students of literature.
Sample student essays from introductory literature classes that will follow initial drafts, peer editing, revising, and final versions.

Many "introduction to literature" texts include a few sample essays, but the authors feel the inclusion of student essays is a game changing feature that helps students to better understand the goals of the chapter.
Writing prompts that challenge the students to question the literary text using the theory under discussion.

The goal of these writing prompts are to help students focus narrowly on the literary text using the theory under examination and lead to potential focal points for their critical essays.
Sample in-class activities for instructors. The authors designed these activities to include more in-class writing prompts that will help students begin thinking theoretically. In addition, there are group activities that will help students tie the text's literary and theoretical readings together. And finally, there are sample questions to help generate and sustain in-class discussions.
Take a look at Writing about Literature through Theory by Pennington and Cordell today to see if it's literary theory focus and plethora of in chapter assets suit the needs of your course and students.
Supplements:
This textbook comes with the following materials that you can use in your classroom.
Connect:
Who's Using this Textbook?