Faculty:
Read & modify our textbooks
Students:
Start by locating your class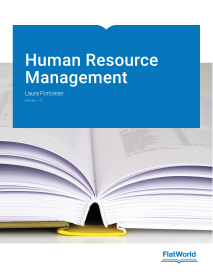 Human Resource Management,
v. 1.0
Pub Date:

November 2011

eISBN:

978-1-4533-2912-2

Pages:

360
What do you want to do?
Table of Contents:
Show me how easy it is to modify this textbook >
INSTRUCTORS:
Interested in combining chapters from this book with your own or other third party content?
XanEdu can help.
Learn more »
Product Details:
Student Formats:
Digital All Access Pass $39

Access to online, offline, and eBook formats: online book with Study Pass, chapter PDFs, and eBook files for tablets, e-readers, and smartphones.

Study Pass $24

Access to the online book only with study tools like note-taking and highlighting; study aids like flashcards; and study view, which collapses each chapter into key terms and key takeaways.

Black & White Print Textbook $59

Bonus access to online and eBooks.

Color Print Textbook $139

Bonus access to online book.
Summary:
Human Resource Management by Laura Portolese Dias teaches HRM strategies and theories that any manager—not just those in HR—needs to know about recruiting, selecting, training, and compensating people.

Most students will be managing people at some point in their careers and not necessarily in a human resource management capacity. As businesses cut back, they may outsource HR duties to outside vendors. Or, in smaller businesses, the HR department is sometimes small or non-existent, and managers from other departments have to perform their own HRM. Therefore, teaching HRM from the perspective of a general manager, in addition to an HR manager, provides more relevance to students' careers and will give them a competitive advantage in the workplace.

This text also provides practical applications of theory relevant to today's workplace. You won't find discussions about "posting vacancies on a job board" or "sending memos." In the real world, HRM leverages technology in every aspect of the job—from online training modules to technology for better managing flex-time workers and telecommuters.

Consider how most companies have gone "paperless" with pay stubs by using software. While such technology has made HRM easier, it has also created a new set of challenges. For example, how does a manager actually implement a new pay system? Therefore, it's important for students to understand what kinds of platforms exist in today's workplace to enhance their effectiveness as future managers.

This textbook is also loaded with supplements to support professors in traditional, hybrid, and online courses. Chapter podcasts, test banks, PowerPoints, and an activity manual are available. The activities in the manual include case studies, role-playing scenarios, and assignments. Sample activities might include a role-playing scenario on letting go of an employee or a case study on a hiring practice issue. Other interactive activities include the development of a training manual for a specific job, interviewing activities, and a performance review activity where the performance is "not so good." All activities are "classroom-tested" and include directions on how to run them effectively.

The conversational style of Human Resource Management engages students, while the academic rigor of its content provides them with the tools that any manager needs—whether they work in HR or a different department. PLUS it offers an array of supplements that gives them practice creating real HR documents and role-playing real HR scenarios. Add value to your students' education, enhance the relevance of your curriculum, and make your students more employable by adopting this book for your HRM class. Read it now online or request your desk copy today!
Supplements:
This textbook comes with the following materials that you can use in your classroom.
Test Item File
Need assistance in supplementing your quizzes and tests? Our test item files (in Word format) contain many true/false, multiple choice, fill in the blanks, and short essay questions.
Instructor Manual
The Instructor Manual will help guide you through the main concepts of each chapter such as learning objectives, key terms and takeaways. Many also include explanations and answers to chapter exercises.
Powerpoint Lecture Notes
A PowerPoint presentation highlighting key learning objectives and the main concepts for each chapter are available for you to use in your classroom. You can either cut and paste sections or use the presentation as a whole
Test Generator
Prefer printable tests? Download our test generator powered by Brownstone and start creating printable tests today! We offer a test generator for both PC and Mac users.
Testbank for Import to Learning Management System
We have taken our test item file and created files to import into the following Learning Management Systems*: Blackboard, Angel, Moodle, WebCT. We also support a Respondus Neutral file that you can use to easily import our questions in any LMS supported by Respondus. * Please note that only certain versions of each LMS are supported. Click on Supplements for detailed information
Connect:
Who's Using this Textbook?