Faculty:
Read & modify our textbooks
Students:
Start by locating your class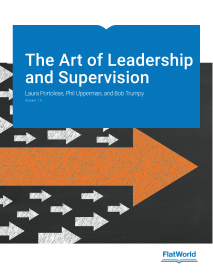 The Art of Leadership and Supervision,
v. 1.0
By:

Laura Portolese, Phil Upperman, and Bob Trumpy
Pub Date:

December 2014

eISBN:

978-1-4533-6786-5

Pages:

304
What do you want to do?
Table of Contents:
Show me how easy it is to modify this textbook >
INSTRUCTORS:
Interested in combining chapters from this book with your own or other third party content?
XanEdu can help.
Learn more »
Product Details:
Available Formats:
Online Access [Required] $29.95
Online Access [Required] + Ebook Downloads $49.95
Online Access [Required] + Black & White Textbook* $54.95
Online Access [Required] + Ebook Downloads + Black & White Textbook* $74.95

* Moving to color textbooks in the spring of 2017 for the same price.
Summary:
There are many excellent leadership books on the market. Likewise, there are many excellent supervision books on the market. However, most of the books on this topic only cover one or the other (leadership or supervision) and do little to combine both topics—which is the most beneficial to our students in their future management careers. For example, most leadership books only discuss leadership from an academic perspective and don't do enough to show how to apply those leadership characteristics and theories to the actual management and supervision of people. In addition, the authors believe that in order to be good leaders, people must understand themselves; therefore, the book focuses on self-assessments, allowing students to better understand their own strengths and weaknesses as a leader. This book will combine the topics and show students how to be a leader and a supervisor.
To this point, the authors believe leadership, management, and supervision are interrelated and should be discussed as such in order to develop the most effective leaders. The three components of an umbrella come to mind in describing leadership in visual terms: leadership would be the overarching cloth held up by the arms, or stanchions; management would be the pole, and supervision would be the handle. Each component supports the other and is necessary for leading a successful organization. If any part is missing or damaged, the umbrella becomes useless in solving the many problems that rain down upon us over the course of a day. That is the philosophy behind this book. Based on the interrelatedness of leadership, management, and supervision, the book will include the following topics:
Real-life perspectives

Self-assessments

Situational examples

Conversational tone and experiential practices
Each chapter opens with a realistic example that introduces a concept to be explained in detail. Each chapter contains relevant examples, YouTube videos, figures, learning objectives, key takeaways, and exercises. An "Additional Perspectives" section is included in each chapter, which addresses diversity in leadership.
Supplements:
This textbook comes with the following materials that you can use in your classroom.
Test Item File
Need assistance in supplementing your quizzes and tests? Our test item files (in Word format) contain many true/false, multiple choice, fill in the blanks, and short essay questions.
Instructor Manual
The Instructor Manual (in Word format) will help guide you through the main concepts of each chapter such as learning objectives, key terms and takeaways. Many also include explanations and answers to chapter exercises.
Powerpoint Lecture Notes
A PowerPoint presentation highlighting key learning objectives and the main concepts for each chapter are available for you to use in your classroom. You can either cut and paste sections or use the presentation as a whole
Testbank for Import to Learning Management System
We have taken our test item file and created files to import into several Learning Management Systems. Click for detailed information and file availability.
Connect:
Who's Using this Textbook?