Faculty:
Read & modify our textbooks
Students:
Start by locating your class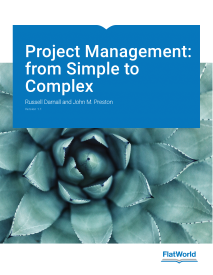 Project Management: from Simple to Complex,
v. 1.0
By:

Russell Darnall and John M. Preston
Pub Date:

May 2010

eISBN:

978-1-4533-2704-3

Pages:

242
What do you want to do?
Table of Contents:
Show me how easy it is to modify this textbook >
INSTRUCTORS:
Interested in combining chapters from this book with your own or other third party content?
XanEdu can help.
Learn more »
Product Details:
Student Formats:
Digital All Access Pass $42

Access to online, offline, and eBook formats: online book with Study Pass, chapter PDFs, and eBook files for tablets, e-readers, and smartphones.

Study Pass $24

Access to the online book only with study tools like note-taking and highlighting; study aids like flashcards; and study view, which collapses each chapter into key terms and key takeaways.

Black & White Print Textbook $69

Bonus access to online and eBooks.

Color Print Textbook $134

Bonus access to online book.
Summary:

In a world that is becoming more virtual, more global, and more complex, the project manager's ability to function in this environment becomes critical to the success of the project. Project Management from Simple to Complex explores project management within this complex, virtual, and global environment.

This is not a standard textbook that was adapted to the new publishing paradigm; it was designed from the beginning to utilize its capabilities. The book is written in collaboration by an expert in Project Management—Russell Darnall—and an expert in writing instructional textbooks and using technology for communicating online—John Preston—to create a unique learning environment that prepares students to manage projects in a global, multicultural, and online environment.

Project Management from Simple to Complex features a new model for managing projects, as well as, exploration into the personal dynamics of project management and the role those dynamics play in project outcomes.
Supplements:
This textbook comes with the following materials that you can use in your classroom.
Test Item File
Need assistance in supplementing your quizzes and tests? Our test item files (in Word format) contain many true/false, multiple choice, fill in the blanks, and short essay questions.
Instructor Manual
The Instructor Manual will help guide you through the main concepts of each chapter such as learning objectives, key terms and takeaways. Many also include explanations and answers to chapter exercises.
Powerpoint Lecture Notes
A PowerPoint presentation highlighting key learning objectives and the main concepts for each chapter are available for you to use in your classroom. You can either cut and paste sections or use the presentation as a whole
Connect:
Who's Using this Textbook?