Faculty:
Read & modify our textbooks
Students:
Start by locating your class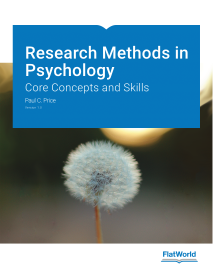 Research Methods in Psychology: Core Concepts and Skills,
v. 1.0
Pub Date:

January 2012

eISBN:

978-1-4533-2753-1

Pages:

246
What do you want to do?
Table of Contents:
Show me how easy it is to modify this textbook >
INSTRUCTORS:
Interested in combining chapters from this book with your own or other third party content?
XanEdu can help.
Learn more »
Product Details:
Available Formats:
Online Access [Required] $29.95
Online Access [Required] + Ebook Downloads $49.95
Online Access [Required] + Black & White Textbook* $54.95
Online Access [Required] + Ebook Downloads + Black & White Textbook* $74.95

* Moving to color textbooks in the spring of 2017 for the same price.
Summary:
Years before this book was a Flat World Knowledge textbook, Paul Price wrote an extensive series of handouts to replace the textbook he had been using for his psychological research methods course, and he posted them online for his students.
Paul turned his book into a proper textbook by having it reviewed, edited and published with the full set of ancillaries by Flat World Knowledge so more students could access the content for a fair price, and faculty could have the freedom to modify his content.
While Research Methods in Psychology is fairly traditional— making it easy for you to use with your existing courses — it also emphasizes a fundamental idea that is often lost on undergraduates: research methods are not a peripheral concern in our discipline; they are central.
The overarching goal of this textbook is to present the basics of psychological research methods — focusing on the concepts and skills that are most widely shared within the discipline — emphasizing both their centrality to our field and their contribution to our understanding of human behavior. The book will include several features that will help accomplish this overarching goal.
The Core Concepts: Dr. Price based his choices about content and terminology on the most influential original books and articles in the research methodology literature—as determined by an empirical analysis of the reference lists of secondary sources. He also relied on the Undergraduate Psychology Major Learning Goals and Outcomes document commissioned by the APA. Although many of the research methods outcomes in that document are addressed in all research methods textbooks (e.g., "Describe how various research designs address different types of questions and hypotheses"), others are rarely mentioned (e.g., "Recognize the limitations of applying normative conclusions to individuals").
The Examples: The text includes examples drawn from the entire range of contemporary psychology, including abnormal, clinical, and counseling psychology. Dr. Price also chose examples to show how psychological research has fundamentally changed what we believe to be true about human behavior (for example, in the area of eyewitness memory).
The Style: Dr. Price concentrated on making the style of this book both straightforward and engaging.
See how easy it is to customize a textbook in this 4 minute demo:
Flat World Editing Platform Video Demo
If you are looking for a new research methods textbook for your psychology course that has been used by "teachers" and is thorough in its content, you will find your book in Paul Price's Research Methods in Psychology. Order a desk copy and see for yourself.
Supplements:
This textbook comes with the following materials that you can use in your classroom.
Test Item File
Need assistance in supplementing your quizzes and tests? Our test item files (in Word format) contain many true/false, multiple choice, fill in the blanks, and short essay questions.
Instructor Manual
The Instructor Manual (in Word format) will help guide you through the main concepts of each chapter such as learning objectives, key terms and takeaways. Many also include explanations and answers to chapter exercises.
Powerpoint Lecture Notes
A PowerPoint presentation highlighting key learning objectives and the main concepts for each chapter are available for you to use in your classroom. You can either cut and paste sections or use the presentation as a whole
Test Generator
Prefer printable tests? Download our test generator and start creating printable tests today! We offer a test generator for both PC and Mac users.
Testbank for Import to Learning Management System
We have taken our test item file and created files to import into several Learning Management Systems. Click for detailed information and file availability.
Connect:
Who's Using this Textbook?